MSPs seek prisoners' views on visiting committee plans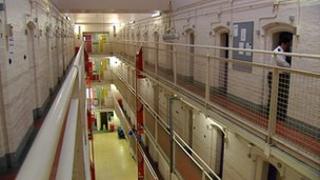 Prisoners are to be asked for their views on plans to scrap the current system of monitoring conditions in Scottish jails
Holyrood's justice committee will take evidence as MSPs scrutinise Scottish government proposals to replace the independent prison visiting committees.
These committees ensure conditions in Scottish jails are safe and decent.
The government wants to replace them with monitors overseen by the Chief Inspector of Prisons.
Prison visiting committees, which were established in 1877, monitor the care of prisoners and the conditions in which they are held.
Members, who are unpaid volunteers, get free access to prisons to observe conditions and hear complaints from inmates as part of their work.
Prison monitors
Although they are responsible to the Scottish government, they are independent and are not part of the management structure of a prison.
The Scottish government has already put forward proposals to scrap the committees and replace them with four independent prison monitors supported by lay monitors.
The monitors would be paid, and would be part of the prisons inspector's staff.
The change was recommended in a report by Professor Andrew Coyle in his review of independent monitoring of prisons, which was published in February.
The justice committee said that as part of its evidence-gathering about the plans, it wants to hear the views of everyone who may be affected - including serving prisoners.
Its convener, Christine Grahame MSP, said: "We want to hear the views of people at the sharp end of these proposals to reform the monitoring of Scottish prisons and prisoners.
"We hope that representatives from both inside and outside the prison walls will let us know what they think."
She said once the committee had received written evidence, it would then hear from people in person on the issue next month.
Independent unit
Neil Powrie, convener of the Association of Visiting Committees for Scottish Penal Establishments (AVC), said it was concerned about some aspects of the government proposals.
"We will be opposing, during the consultation, the principle of having monitors within the inspectorate," he said.
"We are also opposed to the principle of having paid and lay monitors."
He said the AVC supported the idea of monitors being part of an independent unit within the Scottish Justice Department, as happens in England and Wales, one of a number of suggestions put forward in Prof Coyle's report.
The government has rejected that idea.
A Scottish government spokeswoman said: "It is our priority to ensure that the transition from prison visiting committees to the new monitoring service is achieved speedily and seamlessly.
"However, our decision still requires parliamentary scrutiny and agreement."
The government said it hoped its proposed new system could be in place by autumn 2014.