Committee backs closure of Scotland's smallest school of Skerries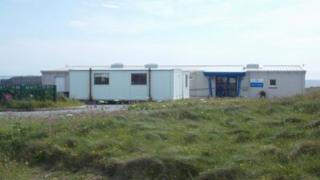 Councillors in Shetland have backed the closure of Scotland's smallest secondary school.
Skerries secondary serves the Out Skerries, a small smattering of islands an hour and a half's ferry journey east of the Shetland mainland.
Members of the local authority's education and families committee approved - by a narrow margin - plans to shut the school next summer.
The final decision will be made by the full council on Wednesday.
The school has only three secondary pupils, all of different ages.
The council has argued they would get a better schooling if they were educated in Lerwick.
It has said closing the school would save almost £74,000 a year.
But locals fear closure could force many families to leave the small island community.
The secondary school occupies a single classroom in the island's primary school building.
Despite having so few pupils, it runs a number of after school clubs - including one teaching the children pilot's licence theory.
Skerries has already survived six attempts to close it in the past decade.
If the proposals were to be approved, the three Skerries pupils would instead have to board at Anderson High School in Lerwick five days a week from August of next year.
Council leader Gary Robinson said: "We can offer a better education and more interaction with peers by continuing their education at the Anderson High School.
"We are currently spending a very large amount of money on some very small schools and I don't think in the bigger picture we can justify continuing with that."
About 70 people live in Skerries.
'No bullies'
One woman told BBC Scotland's Mike Grundon: "I would say that the education they are getting at the moment is far better and is second to none with the experience they can gain from being at home with their families".
Another local told him: "They are well educated so there is no reason to close the school. The future of Skerries is the school. It should remain as it is."
BBC Scotland was told by two of the pupils that they too wanted the school to remain open.
Scott Arthur said: "The best thing is there are no bullies here. Everybody is kind and everybody knows you and the education here is so advanced that it is amazing."
Fellow pupil Ivan Anderson added: "There really is no downside to coming to this school. We have after school clubs like the mechanics club, chess club and PPL, which is Private Pilot's Licence."
Parent Ryan Arthur said there were no downsides to secondary education in a small class of mixed ages.
He said: "I don't think this whole peer interaction argument stands up against a parental upbringing.
"Children learn better from their elders than other children and have a better understanding of life and responsibility."
'Massive significance'
The other fear in Skerries is depopulation.
Several people have decided to bring up their children in the islands on the understanding that there would be a secondary education for them there.
They say that if there were forced to be separated from their children for five days a week they would leave.
Melanie Gorman said: "I've recently just built a house with my partner and started to raise a family here.
"If it happens that they are going to close the secondary department we will have to try to sell our house to support ourselves financially on the mainland of Shetland so we can be with our bairns."
Local councillor Gary Cleaver has vowed to fight to keep school open during the full council meeting on Wednesday morning.
He said: "I have concern that if they lose the school it makes their community that much more vulnerable. I think it is of no great cost to the council financially and is of a massive significance for the communities of the Skerries".