Scottish firefighters vote against strike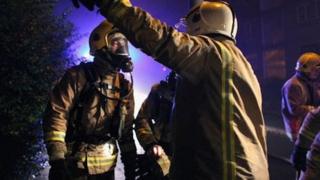 Firefighters in Scotland have agreed not to take part in industrial action over pensions.
The Fire Brigades Union said proposals from the Scottish government were sufficient to prevent a strike.
Improvements were proposed around issues of fitness capability, the threat of "no job, no pension" and pensions for retirements from age 55.
Further walk-outs are possible in England and Wales, where firefighters went on strike last month.
FBU Scotland said the offer represented an improvement to the "unacceptable" proposals set out for firefighters in England and Wales.
However, the union said the Scottish government proposals "did not satisfy all parts of the trade dispute", and it would continue to work to address "key unresolved issues".
Single brigade
In a statement to members, the union's executive council said: "By majority vote, Scottish members have decided that the Scottish government's proposal is sufficient to avoid strike action at this time.
"Scottish members have made it very clear during the briefing meetings that the proposals do not satisfy all parts of the trade dispute.
"However, Scottish members have recognised that significant improvements have been made so far on the issue of fitness capability and the threat of 'no job, no pension', the improved protection arrangements and the improved actuarial reductions for retirements from age 55."
Roseanna Cunningham, the Scottish government minister for community safety, said the creation of the single Scottish Fire and Rescue Service had helped the situation.
She said: "We have been able to guarantee that there will be no compulsory redundancies, and to make a commitment that there will be no mutualisation or privatisation of the fire service in Scotland."
But she said the offer could not cover reserved issues within the control of the UK government.
She said: "We urge the UK government to act now to ensure firefighters in England are not disadvantaged from their Scottish counterparts, and to address the outstanding issues in the trades dispute."
Meanwhile, the FBU is also pursuing talks with the new single Scottish brigade for urgent talks on proposals to reduce the number of its control rooms from eight to three.