Scottish measles infection rate 'slowing'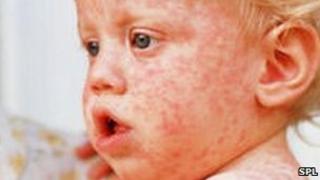 A big increase in the number of measles cases in Scotland earlier in the year has not continued, new figures suggest.
Health Protection Scotland (HPS) said there had been 151 clinically suspected measles cases in the first nine months of 2013.
This compared with 57 cases over the same period last year.
But a large increase in the number of cases seen between March and June did not continue into the following three-month period, it said.
HPS said that, of the 151 notifications of suspected measles in the first 36 weeks of 2013, 30 had been received in the last quarter.
There have been 51 laboratory confirmed cases and three epidemiologically linked - or probable - cases of measles so far in 2013.
Of these confirmed cases, three were in the last quarter.
There were 12 laboratory confirmed and 11 epidemiologically linked cases in the first nine months of 2012.
HPS said: "The large increase in the number of cases seen in Scotland in weeks nine to 24 has not continued into the current quarter.
"Clusters of cases and a high number of sporadic cases of unknown exposure origin are no longer being seen."
The majority of people who contracted measles were either unvaccinated or had only received one dose of the MMR vaccine.
The age of those affected ranged from seven months to 46 years, with a median age of 15.
MMR uptake
It was announced in April that older children not protected against measles in Scotland would be offered the chance to get vaccinated in the wake of a huge rise in the number of cases in England and Wales.
Problems have been caused by the number of children aged over 10 not immunised after the now discredited concerns about MMR vaccination and autism.
Scotland's MMR uptake has been high, but the chief medical officer has urged parents to get children immunised if they have not already had the injection.
A major outbreak of the disease which started in Wales in November saw one person die and a further 1,200 fall ill.
Across the whole of England and Wales there were 2,030 cases last year - the highest figure in 18 years.
These outbreaks followed on from an extensive outbreak in mainland Europe in 2010/2011, particularly in France, Italy, Romania, Spain and Germany, which has now diminished.
Measles cases are under scrutiny in Europe, as measles is targeted for elimination by the World Health Organisation.