Students 'need help to achieve'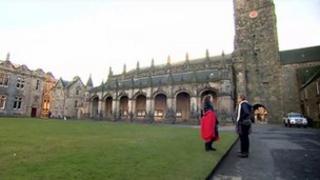 More needs to be done to help ensure people from disadvantaged backgrounds get the most out of colleges and universities, according to a report.
Researchers found that students from more deprived backgrounds were less likely to feel they were achieving their full potential.
It was produced for union NUS Scotland and the Higher Education Academy.
Researchers spoke to more than 1,600 college, undergraduate and postgraduate students in Scotland.
The National Union of Students Scotland(NUS Scotland) said the overwhelming message from the report was positive but more had to be done to ensure the system worked for everyone.
The report looks at how students choose what and where to study and their experiences.
It also investigated how students make the transition between different levels of study, for example the jump between a college course and university.
The report argued students from more 'deprived' backgrounds felt less confident about playing an active role in their education and were less likely to feel they were achieving their full potential.
It was also possible that misconceptions about further and higher education may be influencing students choices, it said.
Some college students said they felt university would be impersonal, difficult, and intimidating. But others said they saw college as somewhere students would go if they did not get the grades for university.
Both college and university students felt that university was seen as the 'normal' option after school or a superior option to college.
Robert Foster, vice president of NUS Scotland, said: "NUS Scotland wants to see a fair and flexible education system for Scotland, in which no person is shut out of education or disadvantaged because of their background or circumstances.
"It's great to see from this research that the majority of students' experiences in education are really positive - but it's also clear we need to do more to make sure our system really works for every student."
Mr Foster added: "It's also a real concern if student choices are being directed by perceived negative views of certain options, and we need to put these education choices on an equal footing, by looking at changes in the way our education system is structured, whether this is through greater collaboration between schools, colleges and universities, improved information and advice, or changes to the way we fund education or even students."
Professor Stephanie Marshall, chief executive of the Higher Education Academy, said: "The report highlights, however, the need to widen access to education and ensure students have the necessary information to make the right choices, throughout their journey, so that they have the highest quality experience."