'Malicious' Scottish fire false alarms drop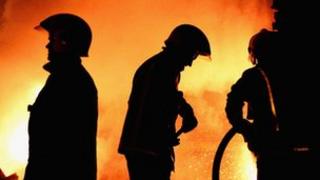 The number of "malicious" calls to the fire service in Scotland has reduced to less than 5% of the total number of false alarms, according to new figures.
Provisional statistics for the year to the end of March, show there were 47,043 false alarms but the majority were down to faulty equipment.
There were 2,299 malicious calls, down from 6,877 a decade ago.
Figures showed 46 fire deaths in 2012-13 - a decrease of 14 (23 %) on the revised figure of 60 for 2011-12.
This is the joint lowest figure in 10 years.
However, a rate of 8.7 fire deaths per million of the population remains much higher than England and Wales (5.1 and 5.5 per million).
Cooking appliances
The most common way a fatal fire started was "smokers' materials and matches", which accounted for 17 deaths.
In 2012-13, the total number of fires in Scotland was 26,613, down 18% on the previous year.
Provisionally there were 1,311 non-fatal fire casualties, down 7%.
About 60% of these fires involved cooking appliances.
Scotland's eight regional fire and rescue services merged on 1 April to become the Scottish Fire and Rescue Service.
The statistics cover the year to the date of the merger.
The Scottish Fire and Rescue Service said the drop in the number of malicious calls was partly because fire services were now challenging people making that type of call.
It was also engaging in community youth programmes to show young people of the dangers of diverting firefighters from genuine emergencies.
Community Safety Minister Roseanna Cunningham said: "While we know that statistics based on small numbers can fluctuate over time the positive downward trend is undoubtedly testament to the hard work of the fire and rescue services in Scotland and their continued focus on prevention."