Filth and Sunshine on Leith succeed at the box office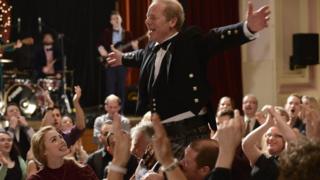 New Scottish films Filth and Sunshine on Leith have proved a big hit at the UK box office, according to figures from the BFI.
Filth, which stars James McAvoy as a corrupt police officer, was the second most popular film over the weekend and Sunshine on Leith was number three.
In Scotland, Sunshine on Leith had takings of almost £290,000 in its opening weekend.
That was slightly more than Filth took when it opened in Scotland last week.
The 18-certificate film opened in just 38 screens in Scotland, a week ahead of its UK release, but took £247,860 in its opening weekend.
Sunshine on Leith is a romantic comedy with the songs of the Proclaimers providing the soundtrack as two soldiers return from Afghanistan and try to adjust to civilian life.
It was playing at 400 screens across the UK and took £770,239 between Friday and Sunday, figures from the BFI show.
Filth, an film version of Irvine Welsh's 1998 novel, stars McAvoy as a sexist, racist, homophobic, drug-addicted cop who is trying to cheat his way to a promotion.
It took £842,167 from 378 screens.
The number one box office film over the weekend was Prisoners.