CSI Scotland: How forensics caught Peter Tobin
The discovery of the body of young Polish woman Angelika Kluk hidden under the floorboards of a Glasgow church led to one of the most high-profile forensics investigations in recent years. Senior Forensic Scientist Carol Weston was the woman who gathered the evidence which would eventually catch serial killer Peter Tobin.
Angelika Kluk, a 23-year-old languages student, went missing in September 2006. She had last been seen in the grounds of St Patrick's Roman Catholic Church in the Anderston area of Glasgow.
Days later her body was found hidden below a small wooden hatch in the floor of the church, her hands were tied and she was covered by a tarpaulin.
The chief investigating officer on the case, Det Supt David Swindle, tells the BBC's Crime Scene Scotland the way she was found showed a "total disrespect for human life".
Det Supt Swindle says he was "mindful of removing the body without disturbing evidence" and so he called in a specialist forensics team. The key person was Carol Weston.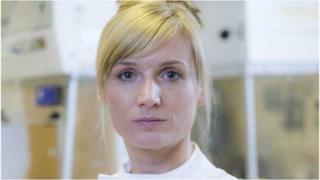 Ms Weston, 39, says she felt "very strongly" that Angelika's body should not be moved and samples should be taken "in situ".
"So I wanted to actually go under the floorboards down beside the body so I could get the maximum amount of forensic evidence," she says.
However, the entrance to the hatch containing the body was very small and it was "bisected" by a beam.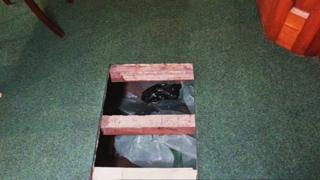 The team discussed cutting the beam but instead it was decided that Ms Weston would squeeze in through the hole beside the body.
"The first thing we had to do was remove the items which were obscuring the body, which was a tarpaulin and a black bin bag with items in it," says Ms Weston.
"At first we were worried because they smelt so strongly of decomposing matter.
"We were worried there were perhaps other body parts or something else down there biological.
"But it turned out it was very heavily blood-stained clothing, a towel and what, in our opinion, was the murder weapon used to stab Angelika - a knife."
Angelika had suffered a "very violent death", with multiple stab wounds to the head and body.
Her clothing was in disarray, suggesting a sexual motive for the attack.
Ms Weston says: "Eventually we did take all her clothing off in situ.
"The reason for that was to preserve anything that was on the clothing.
"Once Angelika had been stripped we could look at moving the body."
She adds: "I thought the whole examination would take an hour. I was shocked when I came out from the floorboards and realised how long I had actually been there - three and a half hours."
The earth beneath Angelika's body had to be laid out in grids, removed and sieved in case there was something significant buried in the soil. Key exhibits were logged. The pathologist took "intimate samples", which would prove any sexual activity.
Ms Weston says it is only after all the work is complete that there is time to deal with human aspect of her job.
She says: "You have finished your examination, stopped thinking so much just as a scientist and that's when it becomes a bit real.
"You are always very aware that you are dealing with somebody's daughter, somebody's brother. It's not some evidence. It is always a person."
The last man to see Angelika alive had been the church handyman, who was known as Patrick McLaughlin.
He quickly became the police's prime suspect but evidence was needed.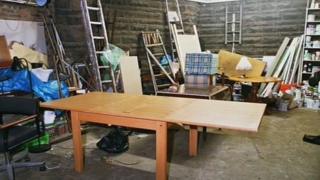 Officers had been unable to find where the murder had taken place.
Angelika had last been seen at the garage attached to the church parish house but at first there was no evidence of a violent murder.
Crime scene examiner Michael Young says: "It was not obvious to anyone there was anything in there.
"I remember Carol finding a very tiny blood spot within the garage and she put a highlighter around it.
"Then she found another one and another and I remember standing back and seeing the fine spray."
At first the spray was not visible because of the dark red sandstone brick but then they traced evidence of "impact spatter blood spots", which are produced when someone is beaten or struck or kicked.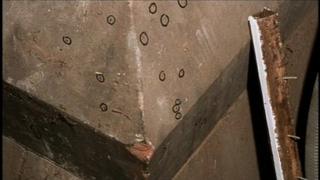 "As soon as we found these blood spots we knew we had the right place," Ms Weston says.
It took four days to painstakingly log every item in the garage.
Having found evidence of the crime being committed they still needed to link their prime suspect to the murder.
Seminal fluid inside Angelika's body indicated that she had sexual intercourse about the time she was murdered.
Ms Weston was confident that swabs of the fluid would be able to give her a DNA profile which would match with the Scottish DNA database, which contains about 280,000 profiles.
But, surprisingly, there was no hit on the database.
Ms Weston says: "It is your worst nightmare. You do a lot of work. You get a profile and you've got no name."
The murder was in Scotland, the prime suspect was Scottish, so a hit in England seemed remote.
However, the English database came back with the name Peter Tobin, who had been convicted of a sex offence in Hampshire in 1993 and released in 2003.
Fingerprint evidence from the bin bag and tarpaulin was also linked back to Tobin.
There was also a wooden table leg with blood on it found in the garden of the church.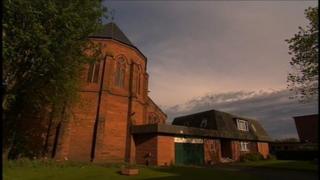 The hunt was on for Tobin and he was discovered by chance when a nurse at a hospital in London recognised his picture in the media.
When Tobin was arrested he was wearing a T-shirt which was stained on the lower front.
The staining proved to be a mixture of his semen and cellular material matching Angelika Kluk.
In May 2007, Tobin was found guilty of raping and murdering Angelika.
Judge Lord Menzies said Tobin should serve a minimum of 21 years, describing him as "an evil man".
The case later helped link Tobin to the murders of two other young women: Vicky Hamilton and Dinah McNicol.
Crime Scenes Scotland: Forensics squad is one BBC One Scotland on Wednesday 9 October at 22:35.