Scottish energy hotline campaign launched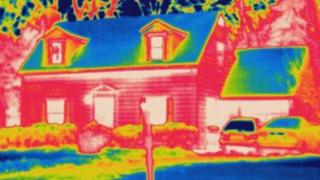 A campaign has been launched to help make Scottish homes more energy efficient.
The Scottish government has made £74m available for home improvements such as insulation, boilers or central heating.
It is offering free impartial energy advice and support through a home energy hotline.
The government said many people were not aware they might be eligible for cash back on home improvements which increase energy efficiency.
The campaign to raise awareness of the hotline and the financial help that is available was launched by Deputy First Minister Nicola Sturgeon.
She said: "Many people are losing money by not taking up initiatives yet anyone can apply for up to £1,200 towards home improvements that will make their home warmer, greener and more cost-effective.
"Many people will also qualify to get energy-saving home improvements such as insulation, boilers or central heating for free.
"The hotline's advisers are friendly and impartial, and one call is all it takes to see what you might be eligible for."
Fuel poverty
Citizens Advice Scotland chief executive Margaret Lynch said: "We see many people who are worried about paying their gas and electricity bills. And we know that around one-third of Scottish households are in fuel poverty - an astonishingly high figure.
"The good news is that there are quite a number of schemes that help people who are struggling to pay their fuel bills.
"The bad news is that many consumers don't know about them, and so don't apply to them and instead suffer the cold, or debt, or both.
"We have called in the past for the government to find ways of setting this information out in a clear, straightforward and impartial way. This new helpline will hopefully do that."
More than 800,000 people have received energy advice or help on heating bills since 2009 through the Home Energy Scotland hotline.
A recent YouGov survey suggested that three-quarters of Scottish billpayers were concerned about the cost of their energy this winter while more than 70% said last winter's energy bills had a negative impact on their disposable income.