Scottish soldiers given Afghan bravery awards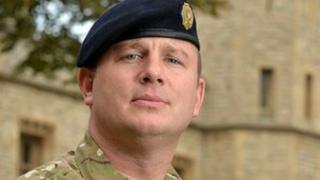 Scottish soldiers have been honoured for acts of bravery while serving in Afghanistan.
The awards included a George Medal for a bomb disposal expert who helped save the lives of Danish and Afghan troops.
Also honoured was a soldier who took "decisive action" after a rogue member of the Afghan Army killed a Scottish officer during a football match.
And a platoon leader was recognised for his "conspicuous bravery" under heavy fire.
Warrant Officer Andy Peat, a high threat explosive ordnance disposal operator, received the George Medal for his role when he was attached to a task force of a Danish Special Forces unit with Afghan partners.
The George Medal is awarded to civilians for acts of great bravery, but also to military personnel for acts of great bravery not in the presence of the enemy.
'Gravely injured'
WO Peat, 39, from Edinburgh, was on an operation to search a suspected homemade explosive factory when one of the Danish soldiers triggered a device on a compound roof.
He was credited with saving the lives of several other Danish soldiers and members of the Afghan police.
He cleared a route to the injured man while urging the other Afghan and Danish soldiers to stay still to avoid triggering other bombs.
When he reached him he realised there was another wire underneath him - tracing it to another IED hidden under a nearby stone, he disarmed it and cleared a safe route.
WO Peat, of 33 Explosive Ordnance Disposal Regiment Royal Engineers, said: "Working in the dark with night vision equipment does make it more difficult but we train for those situations.
"I was aware that there was a potential threat from insurgents and further devices. In those circumstances you remain focused, prioritise and work logically.
"It is hard to suppress your emotions, knowing someone has been gravely injured. Your first instinct is to run to them and do everything you can to help but if you do that, you could make things a lot worse."
Oversergeant Rene Brink Jakobsen later died of his wounds, leaving behind a wife and three children.
WO Peat's citation stated: "Although a Danish serviceman was fatally injured, the calm, determined actions and bravery demonstrated by Peat without doubt prevented further casualties and death to both Afghans and Danish alike.
"The Commander on the ground is adamant that Peat protected seven lives that night. At no time did Peat show regard to his own safety and his selfless actions are tribute to a truly professional soldier."
In August, WO Peat became the first soldier outside Denmark to receive the Anders Lassen Award for his bravery.
Pte Ryan Houston, of 1st Battalion The Royal Regiment of Scotland, was two-and-a-half months into his first tour of duty in Afghanistan when an Afghan soldier starting firing at troops as they played football in November last year.
The 22-year-old, from Hamilton, was on duty as a Guardian Angel, patrolling the Forward Operating Base in Nad-e Ali to protect his fellow troops, when he heard gunfire.
'Extraordinary humanity'
As Afghan and British troops scattered, he took on the rogue soldier who was firing at him, then followed him as he fled the pitch.
The incident fatally wounded Capt Walter Barrie, 41, from Penicuik in Midlothian, who was playing in the match.
His killer was stopped when Pte Houston, joined by another soldier, gave chase and opened fire.
The 22-year-old was awarded a Mention in Despatches in the latest round of Operational Honours, announced at the Tower of London.
Pte Houston's citation described how he and his colleague were exposed to more than 50 bullets which passed within centimetres of them.
Once the Afghan soldier had been shot, they searched him, and Pte Houston was then said to have expressed "extraordinary humanity and control" by protecting fellow soldiers who were giving first aid to the man who had only minutes before been trying to kill them.
"Houston's valour, decisive action and his exhibition of the highest standards to which the British Army aspires, are out of all proportion to that expected of such a junior soldier," the citation added.
Also mentioned in dispatches was Cpl Richard Cook, from Selkirk, who was recognised for his "repeated gallantry and inspirational leadership" while acting above his rank as a Platoon Sergeant in Afghanistan.
Cpl Cook, also of 1st Battalion The Royal Regiment of Scotland, led his platoon on an operation to search a known insurgent command post and improvised explosive device factory in central Yakchal in February.
As the Scots and members of the Afghan National Security Force Tiger Team approached the compound they came under "accurate and heavy small arms fire" with rounds striking the ground among his soldiers.
He immediately took control, directing his men to what little cover there was and ordered return fire to enable an extraction of his men and the Tiger Team.
The 26-year-old said: "We knew it was coming. Rounds started cracking around us. I ordered rapid fire. The machine gunner got a stoppage and just as he ducked behind a wall a bullet struck the top of it."
With suppressive firing failing to quell the insurgent attack, he took a significant risk and moved out of cover to an exposed and vulnerable position to draw the insurgent fire and identify their position.
Upon doing so, he fired a 66mm rocket, ending the contact successfully without sustaining any casualties.
He said: "I knew I had to do something to stop them firing on us. At the time I didn't think about putting myself in the firing line. It was only afterwards I wondered what the hell I was doing".
Over the course of the day, his platoon was engaged a further eight times by accurate small arms, grenades and rocket propelled grenades from multiple firing points.
His citation read: "Throughout, he led from the front showing outstanding grit and determination which proved to be an inspiration to his young soldiers and the Afghan Tiger team."