FBU demands talks on plans to cut fire control rooms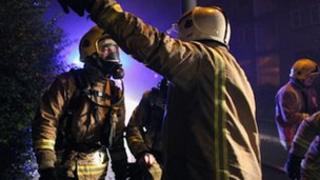 The Fire Brigades' Union (FBU) is to ask the new single Scottish brigade for urgent talks on proposals to reduce the number of its control rooms.
The Scottish Fire and Rescue Service has said it want to cut its eight control rooms, inherited from the former regional brigades, to three.
One will be in Johnstone, Renfrewshire. The others have yet to be decided.
Following a meeting in Glasgow, the union said the proposals had been made without full consultation.
Steven Reid, the FBU control rooms' representative, said: "We are looking for proper discussions on the proposals.
"In particular we want to talk about the policies which will be put in place for staff working in control rooms which might be closed."
The Scottish Fire and Rescue Board voted on 26 September to consult on plans to reduce the number of control rooms.
The Scottish government has said how that was achieved was a "matter for the board," but it has a policy of no compulsory redundancies in the public sector.