Five Scots universities 'in top 200'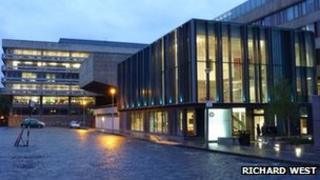 The number of Scottish universities included in a list of the world's top higher education institutions has risen from four to five.
Edinburgh was the highest-placed Scottish institution in the Times Higher Education University Rankings despite dropping seven places to 39th.
Glasgow rose 22 places to share 117th position with St Andrews, which slipped back nine places.
Aberdeen dropped 12 places to 188 but Dundee re-entered the top 200 at 196th.
Lists like this do not provide a definitive guide to which universities are the best - and do not suggest the degree a student gets from one institution is better than the one they might get at another - but they do give an indication of their international reputation.
The Times Higher Education World University Rankings claim to be the most comprehensive, carefully calibrated and highly respected of global league tables.
Tuition fees
They use 13 separate performance indicators to examine a university's strengths in areas such as the quality of its teaching, research and international outlook.
Scotland has more institutions in the top 200 per head of population than any other country. The Republic of Ireland has just two top 200 institutions - and neither makes the top 100.
Critics had feared Scottish universities might lose out because Scottish students do not pay tuition fees.
The concern was that the institutions would lose out financially and that this, in turn, could lead to a "brain drain" of the best academics and students to the rest of the UK.
The latest rankings - and other similar research - are likely to be used by universities and the Scottish government's supporters to argue that these fears have proved unfounded.
However others might note that three of the five Scottish institutions fell down the list.
The United States dominated the table with 77 of the top 200 places.
The UK remains Europe's strongest representative with 31 universities - including the Scottish five - in the top 200.
Universities Scotland, which represents the collective interests of all of Scotland's universities, said the table demonstrates the country has one of the strongest higher education systems in the world.
Director Alastair Sim said: "Every Scottish institution is engaged in world-leading research, uses innovative learning and teaching methods, and looks to make a strong contribution locally, nationally and internationally.
"The continued success of our universities - in a fiercely competitive international higher education marketplace - is crucial to Scotland's success.
"Our universities make an important contribution to Scotland's economy by delivering significant returns on public investment, attracting international students and inward investment, creating and supporting Scottish businesses and jobs, and producing highly-skilled graduates with the best employment prospects in the UK.
"This is a contribution that has to be protected and grown in order to achieve our ambitions for a successful sector and country."
Scottish Education Secretary Michael Russell said: "Scottish universities are known at home and abroad for their excellence and this is highlighted by the fact that five of our universities feature in these international rankings.
"Scotland has the most universities per head of population which clearly shows we continue to excel and build on our unrivalled record of success.
"Taken together with the recent QS ratings, it demonstrates that our substantial investment in Higher Education - over £1bn annually - is paying off and most importantly, delivering exceptional opportunities for students and employers.
"Earlier this year we announced additional funding, based on the levels of world leading research. I am sure the commitment and dedication of our universities and their staff, helped by our funding will ensure our higher education system continues to go from strength to strength."