NUS praises Students Awards Agency for Scotland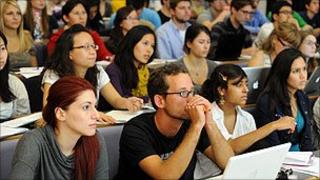 The National Union of Students has said there have been major improvements at the agency which handles student loans and bursaries.
In 2012, thousands of students who applied to the Students Awards Agency for Scotland (SAAS) after the official deadline were still waiting for their cash after the start of term.
By the end of October, 6,000 applications still had to be processed.
The Scottish government gave the agency an extra £2m to help it catch up.
NUS Scotland President Gordon Maloney said: "There have been significant improvements at SAAS in the past year, the result of a review in which we successfully called for extra funding, increases in staff, and extended opening hours.
"The faster processing of applications this year is particularly important given the changes in student support funding, which will see those in higher education in Scotland eligible for a much improved student support package."
He added: "We are pleased with the progress we've seen from SAAS this year, and will continue to closely monitor the situation and work with SAAS to make sure that the changes put into place continue to reduce waiting times and quickly get support funds into students pockets."