Violent deaths in Scotland fall to record low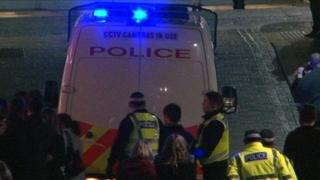 The number of homicides in Scotland has fallen to its lowest level on record.
In the year to the end of March 2013, there were 62 killings - a fall of a third compared with the total for the previous 12 months.
Police have identified an accused person in all but one of the cases, which include murders and culpable homicides.
The figures included cases which have yet to be dealt with by the court system.
More than 75% of the killings took place in a domestic setting and about half of the victims were killed by an acquaintance.
Of the accused, 43% were under the influence of drink or drugs.
Justice Secretary Kenny MacAskill said: "Homicides are continuing to fall, dropping by almost 50% since 2006/7 and are now at their lowest level for 37 years - the fewest ever on record and the lowest in a generation.
"We are making progress and this trend is to be welcomed but we can't forget that behind these figures are the grieving families of 62 victims having to cope with the death of a loved one.
"It remains the case, as in previous years, that victims are mostly male, killed by someone they know, in a house or flat with the accused often under the influence of alcohol or drugs."
The figures are based on the number of homicide cases, although in 2012-13 there was just one victim in each case.
The main method of killing recorded was a sharp instrument, a category which includes knives.
Mr MacAskill added: "This government is constantly looking at new ways of reducing knife crime even further through education and tough enforcement.
"Scottish courts have the toughest sentencing regime in the UK, funding for our No Knives, Better Lives campaign has doubled, and this, alongside stop and search and other preventative measures, is changing the culture away from young people carrying knives."
Assistant Chief Constable Malcolm Graham, of Police Scotland, said: "Scottish Policing has a strong record of homicide detection - and we are making strides in preventing and reducing all forms of violent crime, including attempted murder and serious assault.
"One of the benefits of police reform was to increase access in our communities to specialist functions, like homicide investigation and to improve consistency across the country to ensure we do all we can to keep people safe."