Scottish judge Lord Hodge joins UK Supreme Court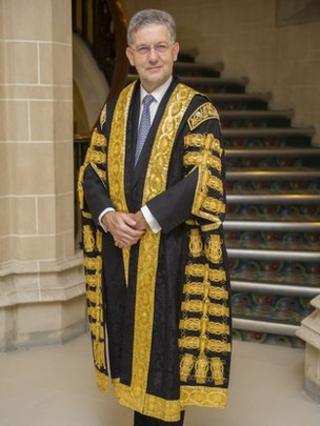 A Scottish judge has been sworn in to the Supreme Court - the highest court in the UK.
Lord Hodge took the Judicial Oath and Oath of Allegiance before 10 of his fellow Justices of the Supreme Court.
The justices then processed to Westminster Abbey for a service marking the opening of the legal year in England and Wales.
Lord Hodge has sat in both the Court of Session and High Court of Justiciary in Edinburgh.
His appointment follows the retirement of Lord Hope after 17 years' service with the House of Lords and the Supreme Court.
He joins Lord Reed as the Scottish members of the Court and continues the long-standing convention that at least two of the court's justices should have comprehensive experience of the Scottish legal system.
Lord Hodge was appointed a Senator of the College of Justice in 2005. He will first hear a case from Scotland concerning mental health legislation next week.
He also has a new role sitting on the Judicial Committee of the Privy Council.
The committee serves as the court of final appeal for the UK overseas territories, Crown dependencies and for some Commonwealth countries.