Scotland becomes 'a more colourful country'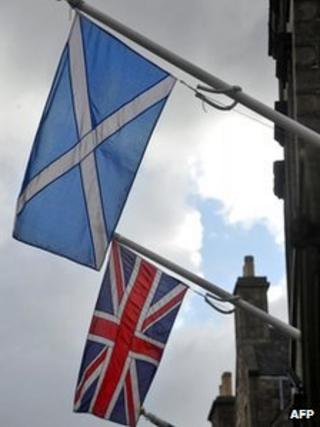 Next year Scotland's four million voting residents will have a rare opportunity - the chance to decide the future of a nation.
But who are the four million facing this historic decision? Where do they come from? What do they look like? How do they sound?
The census breakdown released today suggests some answers to those questions.
And one fact screams out from the data: In Scotland, more than in other parts of the UK, there is an overwhelming sense of a very particular national identity.
The statistics suggest a deep sense of "Scottishness", with 4.4m of Scotland's 5.3m people saying they felt Scottish either solely or in combination with another identity.
The "most Scottish" area was the country's industrial heartland: North Lanarkshire, Inverclyde, East Ayrshire and West Dunbartonshire.
The "most British-only" areas were Argyll & Bute and the Shetland Islands. But "most British" is a relative term because those stating British as their only identity in both places was just 12%.
In East Renfrewshire, 26% said they felt British and Scottish. In East Dunbartonshire this figure was 25%.
Born abroad
The figures also suggest that many of those with a vote on the future of the United Kingdom do not hail from its shores.
Fifteen percent of people born outside the UK were from Poland (55,000); 6.4% were from India (23,000); and 6.2% from the Republic of Ireland (23,000).
They were followed by Germans (22,000); Pakistanis (20,000); and Americans (16,000).
Two other countries notable for moving quickly up the foreign-born table were China (15,000) and Nigeria (9,000).
Many of these immigrants headed for the prosperous cities of Aberdeen and Edinburgh (around one in six in each case) while just one in 50 was living in East Ayrshire.
Sixty-three per cent of those born abroad arrived in Scotland between 2001 and 2011, a clear majority of those (69%) were of working age and, of those, most (38%) were in their twenties.
Soviet bloc
Data analysts said immigration appeared to rise in particular after countries from the former Soviet bloc became members of the European Union in 2004.
One striking fact is that twice as many people in Scotland said they spoke Polish at home compared to those who used Gaelic as their main language.
Nonetheless the long-term decline in Gaelic may have been arrested. The number of Gaelic speakers fell by one thousand over the decade to 58,000, but there was a slight (0.1%) increase among the under-20s.
A total of 73,000 people (1.4% of those aged three and over) were reported to be unable to speak English well or at all.
As for ethnicity, as distinct from place of birth, Scotland was still overwhelmingly white in 2011 (5.1m or 96%) but the proportion of whites was falling, down two percentage points from 2001, despite the immigration from Eastern Europe.
The Asian population remained the largest minority group with 141,000 people, or 3% of the total, a rise of 69,000 over the decade.
Within this, Pakistanis were still the largest single category, up 18,000 to 49,000.
In terms of religion, the fall in followers of Jesus Christ appears sharp, although Christians remain a majority at 54%.
Goegraphical split
But that proportion has dropped by more than a tenth in just a decade with the Church of Scotland accounting for almost the entire fall: 1.7m people now say they belong to the Kirk, down from 2.1m in 2001, despite the overall population rising.
However it seems likely that this slide would have been even more steep were it not for the arrival of thousands of Roman Catholics from Eastern Europe who appear to have helped stabilise the Catholic population at 841,000.
It is worth noting that the question on religion is the only voluntary part of the census but it still attracts a statistically significant proportion of responses at 93%.
Interestingly, a geographical split emerged with more people in the west likely to say they considered themselves religious than those in the east.
There is much to chew over and much to debate in today's census data, there are many more questions still to be answered.
But the Registrar General for Scotland, Tim Ellis, had a simple summary of the statistics.
Scotland, he said, was becoming a "much more colourful" country.