Scottish Independence: Referendum preparation 'encouraging'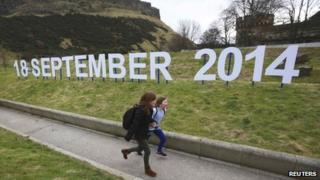 The Electoral Commission says preparations for the Scottish independence referendum are going well but it raised some concerns.
John McCormick, electoral commissioner for Scotland, said he was "encouraged" by the progress so far.
But he called for "clarity" about how the terms of independence would be decided in order to help voters.
The referendum, on 18 September 2014, will ask "Should Scotland be an independent country?".
Mr McCormick said voters need to have absolute confidence in the result.
He said: "There must be no doubt that the referendum was fair and transparent and there were no barriers to voters or campaigners taking part.
"The rules and the plans for delivering the poll across Scotland underpin the whole referendum and we are encouraged by the progress we have found."
He added: "These are good foundations to build on but there is still work to do. We will continue to monitor progress and will speak up if we have any concerns."
The commission published its interim report just days after the Scottish Parliament endorsed the general principles of the Referendum Bill.
The legislation lays the groundwork for the poll and sets the franchise, lowering the voting limit to include 16 and 17-year-olds.
Among its findings, the interim report said the Scottish and UK governments should clarify what would happen after the decision is taken next year.
"Although we would not expect the terms of independence to be agreed before the vote, clarity about how the terms of independence will be decided would help voters understand how competing claims made by campaigners before the referendum would be resolved," the report states.
"We believe this is important for voters. We therefore recommended that the Scottish and UK governments clarify what process would follow the referendum in sufficient detail so as to inform people what would happen if most voters voted Yes or if most voters voted No."
A joint statement should be agreed by December 20 to coincide with the expected Royal Assent to the Bill, the Commission suggested.
Mr McCormick also said there needed to be clarity on how new Westminster legislation on lobbying, campaigning and trade unions might affect the run-up to the referendum.