James McAvoy: 'Audiences can't have it easy all the time'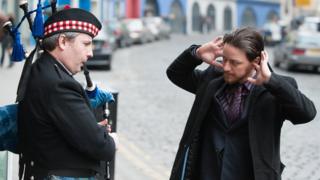 Filth - the latest film adaptation of an Irvine Welsh novel - stars James McAvoy as a bigoted, drug-addicted police officer. The star of the 18 certificate film, which has been 15 years in development, is braced for strong reactions.
Sexist, racist, homophobic, drug-addicted and corrupt, Detective Sergeant Bruce Robertson's behaviour is not acceptable in any way.
And yet Scottish actor McAvoy says the reaction to the character has been surprising.
He says: "People have been coming out and saying 'I felt something for this guy and I did laugh and I'm kind of slightly angry with myself'."
McAvoy, who previous films include Last King of Scotland and Atonement, says: "I don't think we either ask the audience to forgive him or try to justify it but we do try to explain it."
The 34-year-old actor says that the film differs from Welsh's 1998 book in that it concentrates on the mental deterioration of the character.
Robertson is not just a bad guy doing terrible things, says McAvoy, he is a man who has made bad decisions and dug himself into a hole from which he cannot escape.
The character, compared by the Glasgow-born actor to Iago in Shakespeare's Othello or Machiavelli's Prince, manipulates and hallucinates himself into a web of deceit which takes its toll on his sanity.
McAvoy is keen to stress that his portrayal of Robertson's mental illness is not a "naturalistic representation", it is much more "heightened and energetic".
He says: "My experience of mental illness has been more vibrant than I usually see portrayed and it can be hilarious.
"Of course, it can be depressing but there is a high energy and also a huge imagination which can be thrilling to be around as well as quite terrifying at times."
McAvoy says that while TV drama has become more adventurous, films have become safer, with even the quality end of the market tending but be a bit too "worthy".
He says Filth was a chance to make a film that was "bold and dangerous and potentially controversial", something which nobody in the film industry wants to do at the moment.
"You want to create a conflict in an audience," he says.
"Audiences can't just have it easy all the time. They've got to be made to feel things that they didn't expect or did not want to, or be surprised as well as entertained."
McAvoy says: "We want to inspire strong reactions, be they positive or negative, because everything else is just grey."
That is not a colour which would usually be applied to an Irvine Welsh novel.
The Edinburgh author's most famous book - Trainspotting - was made into a 1996 film by director Danny Boyle.
It launched the careers of Ewan McGregor, Robert Carlyle, Kevin McKidd, Kelly Macdonald and Johnny Lee Miller, not to mention Boyle himself.
On the back of the success of Trainspotting, there was much interest in making a film of Welsh's novel Filth, another dark comedy containing morally questionable characters.
However, it has taken 15 years to reach the big screen due to what Welsh describes as a "chequered history".
Welsh says he sold the rights to a major Hollywood studio in 1998 but then its UK arm split in two, leading to years of wrangling over who owned the rights.
When Welsh got the rights back there was still interest in the project but he said the directors who were attached to the film wanted to write their own screenplays and "they weren't up to scratch".
Hallucinations and fantasising
The problems adapting Filth are understandable.
It is a book whose narrative is driven by a talking tapeworm, that is often told by an interior monologue and which is prone to confusing hallucinations and fantasising from the main character.
However, Welsh says that despite the difficulties getting the movie made he never thought it was "unfilmable" as some people claimed and says that Trainspotting "had no story" but that did not hinder its success.
Director and producer Jon S Baird, who is also a Scot, from Aberdeenshire, wrote the final screenplay for the film.
He took on the project five years ago and managed to pull together funding from about 30 different partners in countries such as Belgium, Germany, Sweden as well as America and the UK.
It was Baird who brought in McAvoy, who Welsh describes as a "talent magnet" who inspires a "genuine reverence" from his fellow actors.
The film's cast also includes Jamie Bell, Jim Broadbent, Eddie Marsan, and Imogen Poots.
Welsh says it was "ballsy" of McAvoy to take on such a role as he was already a big Hollywood star, famous for roles in blockbusters such as X Men, as well as appearing with Angelina Jolie in Wanted.
The author says: "It was not like Ewan (McGregor) doing Trainspotting. It was not a breakout role for him. He's already there and it is risky for him to take on something as dark and culty and out there as this."
Baird, whose previous films include Cass about an orphaned Jamaican baby in London, says Filth was regarded as a "dead project" when he got involved.
"It's an old book and very challenging material and people had tried to adapt it before and failed," he says.
For Baird it needed "a very special actor" to play Robertson and McAvoy is one of the few who could achieve the balance between dark madness and humour.
He says: "I think this will prove to everyone just how good he is. James McAvoy is the key to this movie working."
Filth opens in Scotland on 27 September and the rest of the UK on 4 October