RSPB Scotland 'extinction' warning over falling seabird numbers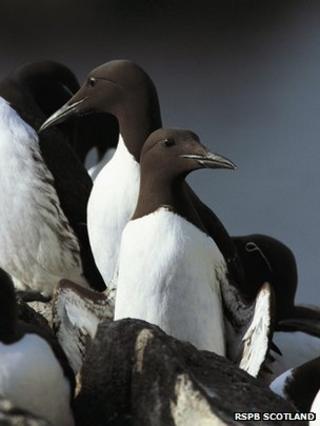 Some of Scotland's important seabird colonies may become extinct in parts of the country unless action is taken to protect them, RSPB Scotland has warned.
End-of-season counts showed a severe decline in numbers of common guillemots at the charity's coastal reserves.
It said species such as razorbills and puffins were also struggling to cope.
The charity wants ministers to designate Marine Protected Areas (MPAs) for seabird populations.
Common guillemots nest in dense colonies on sea cliffs, but numbers at Dunnet Head on the Caithness coast have dropped by around 45% since the last seabird census in 2000, falling from 8,980 to 4,880.
The RSPB reserve at Noup Cliffs on Orkney recorded a 41% decline over the same period, while the colony at Ailsa Craig in the Firth of Clyde reduced by more than 27%.
Food shortages
Food shortages and the effects of climate change were also having an impact on razorbills and puffins, the charity said.
A Scottish government consultation on possible MPAs is due to close in November, but RSPB Scotland wants the proposals to be extended to cover more species.
Black guillemots have been marked for protection under the plans and colonies of the bird are said to be doing well, particularly in the northern isles.
RSPB Scotland marine policy officer Allan Whyte said: "Scotland is home to 24 species of breeding seabird and it is baffling that the Scottish government chooses to ignore all but one when designating MPAs.
"Puffins, kittiwakes, common guillemots and the rest are struggling to survive these tough times.
"The Scottish government can and must throw these birds a lifeline and designate MPAs to protect this amazing group of species in danger of disappearing from our coasts. It is time we take action to give all of our seabirds, like common guillemots, a fighting chance."
Formal advice
A Scottish government spokesman said it had asked Scottish Natural Heritage and the Joint Nature Conservation Committee to provide formal advice on what additional marine Special Protection Areas were required for the conservation of seabirds.
The advice is expected to be received at the end of 2013.
The spokesman added: "Also, we are protecting a number of sand eel habitats which will help protect a vital food source of most seabirds.
"Other measures being taken that assist in the conservation of seabirds include the control of non-native species, surveys of seabirds at sea and continued monitoring of sites.
"Seabirds are already well represented in the network through Special Protection Areas."