Counterfeiting links to organised crime highlighted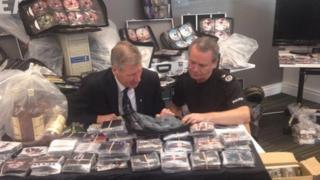 A new campaign highlighting the links between the trade in counterfeit goods and organised crime has been launched by the Scottish government.
It comes as a survey showed almost 90% of Scots do not consider the production and sale of fake goods to be associated with serious criminality.
Trading Standards Scotland said illicit trade was often a significant funding stream for organised crime groups.
The justice minister has been meeting with the agencies tackling the problem.
The Scottish government's Public Perceptions of Serious Organised Crime report showed that one in ten Scots had been personally affected by organised crime in the past three years.
However, that number could potentially be higher, as only 11% of those questioned considered trade in counterfeit goods as being associated with serious and organised criminals.
'Human misery'
Justice Minister Kenny MacAskill said although buying a fake designer handbag, watch or sunglasses might be seen as a "victimless way to get something desirable on the cheap", the money made from the trade in these types of goods was often used to fund significant criminal activity.
He added: "We know that serious organised criminals in Scotland will be tenacious in exploiting every avenue in human misery to make money from their illegal doings.
"By tackling the influx of counterfeit goods, police and other enforcement authorities are removing the means by which serious organised criminals operate, curtailing their criminal activities."
The Scottish government said that in the past five months there had been a significant rise in the intelligence the justice authorities received about counterfeit goods.
Reports to the recently-formed Anti-Illicit Trade Hub - a grouping of organisations including the police and HMRC - have more than tripled.
Colin Baxter, chair of Trading Standards Scotland said: "Local Authority Trading Standards Services are acutely aware of the corrosive effect that organised crime can have in their communities, aware too that illicit trade is often a significant funding stream for these groups.
"We welcome the opportunity to work ever more closely with our partners within the framework of the Anti-Illicit Trade Hub. We also welcome the improvements in intelligence collection and sharing offered by the new Trading Standards Scotland national team.
"Such intelligence is the lifeblood of enforcement, protecting consumers and legitimate business across Scotland."
David Harvie, from the Crown Office and Procurator Fiscal Service, added: "The people of Scotland should be aware of the real effects of purchasing counterfeit goods - such behaviour only funds the groups that undermine our communities.
"While the prosecution service will continue do all in our power to prosecute and recover the profits made by organised criminals, so too should people across Scotland be aware of the ways in which they can assist in cutting off the funding at source."