Yoga guru Swami Ramdev to hold class for 1,500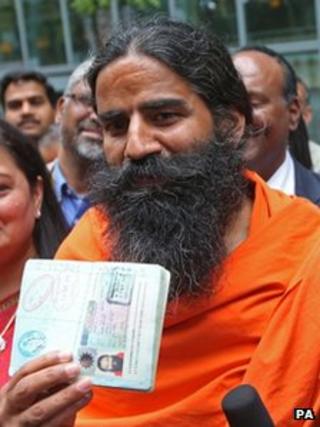 A mass yoga event led by Indian spiritual leader Swami Ramdev will go ahead after he was allowed to stay in the country.
Swami Ramdev, 47, also known as Baba Ramdev, was stopped by officials at Heathrow Airport on Friday and detained for eight hours.
He was questioned again on Saturday but was allowed to stay in the country.
The YogArena is a free event for up to 1,500 people being held at Glasgow's Emirates Arena.
Ramdev's supporters had feared he would be told to leave the UK on Saturday but immigration officials ruled he could stay.
The yoga master, who is only in the UK until Tuesday, said he had no problem with the UK government and added he would like to come back for up to three months.
Ramdev told the BBC's Asian Network he was placed on a high risk list by the Indian authorities for speaking out about corruption, a claim denied by the Indian government.
Speaking through an interpreter, he said: "I'm sad that my government provided false information about me, so a red alert was attached to my name like for criminals or terrorists."
Leicester East MP Keith Vaz, who attended a meeting between Ramdev and immigration officials, said it was a matter of concern that he should have been treated in the way.
Mr Vaz said he would pursue a fuller explanation later.
Ramdev reportedly has an 85 million-strong worldwide following and his own television channel in India.
He has run prominent campaigns in India, including hunger strikes, protesting against corruption in government.
A trust run by Ramdev bought the island of Little Cumbrae just off the coast of Largs in south west Scotland and established it as a yoga centre two years ago.