UKIP: 'Apathy on independence is greatest danger'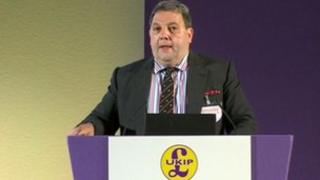 Independence would be disastrous for Scotland, UKIP national executive member David Coburn has told the party's annual conference in London.
Mr Coburn said people felt next year's referendum vote had already been won by those opposed to independence.
"Apathy is the greatest danger", he said, adding a large victory would kill the idea of independence "stone dead".
Mr Coburn is seeking UKIP's nomination as a Scottish candidate in next year's European Parliament elections.
He told UKIP delegates that his party would be standing in the Dunfermline Scottish Parliament by-election, on 24 October, where Peter Adams would be the candidate.
Mr Coburn said UKIP could fill the vacuum in Scotland left by the other parties.
He said: "Scotland has only various shades of red you can vote for since the implosion of the Conservative Party.
"There is no libertarian, small business party in Scotland. UKIP will give that to them."
He said that people were turning against the three unionist parties in Scotland because Labour were "town hall apparatchiks", the Tories are "finished" and the Lib Dems are "a joke".
UKIP is the party of low tax and less government, he said.