Police clampdown on hare coursing in Scotland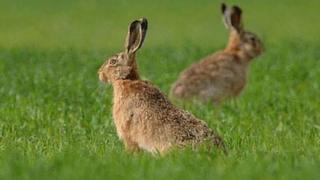 A national clampdown on hare coursing has been launched by Police Scotland.
Operation Lepus will see officers patrol known hare coursing areas, and farmers, landowners and the public will be urged to report any incidences.
Traditionally, offences start to rise in the autumn after crops have been harvested, and continue until spring.
Sgt Andrew Mavin said: "Hare coursing is barbaric and the mindset of those who partake in such crime is beyond comprehension."
The wildlife co-ordinator for Police Scotland said the force would be liaising with Scottish Land and Estates and the National Farmers Union Scotland (NFUS).
He added: "I would urge anyone who wishes to report this type of crime, if they are a witness to this crime, or simply, if you are a farmer or a landowner and you'd like to report any suspicious activity or people on your land - particularly suspicious people with dogs such as lurchers or greyhounds - please contact police on 101."
Hare coursing is an offence under the Wildlife and Countryside Act 1981.
People involved in the illegal activity often use lurchers, greyhounds or whippet dogs to chase and kill hares.
Livestock distress
Allan Bowie, vice-president of NFU Scotland, and of Allan's Farm in Fife, said: "Farmers are better placed than they may realise to help prevent this gruesome form of rural crime.
"It is in our industry's interest to report suspected cases or incidents of hare coursing too, as the activity can cause distress among livestock; additionally, people taking part in hare coursing are often involved in other types of criminal activity, such as stealing agricultural machinery, trailers and tools."
Paul Wakefield, of Scottish Land and Estates, said working in partnership with the police over the years had improved enforcement and crime prevention.
He said: "However, despite this concerted effort hare coursing remains a problem and we will continue to urge anyone who lives and works in the countryside to remain extra vigilant at this time and to report anything suspicious or out of place to the police."
The Brown Hare (Lepus eurpaeus) does not use burrows and tends to rely on vegetation and its colouration as camouflage from predators.
Hares become more easily seen on fields when crops have been cut or recently sown.