Legionella-compost link warning from health experts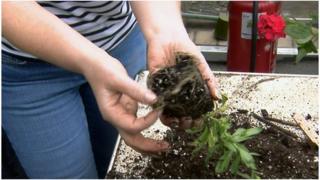 A team of health experts have recommended warning labels be put on bags of compost because of the risk of Legionnaires' disease.
A further case of Legionella longbeachae connected to compost has been identified as part of an outbreak that began in August.
It brings the total number of people affected to five. The latest victim is being treated in hospital in Dundee.
Scotland has seen 15 cases of longbeachae since 2008.
This has made it the second most common strain of legionella and led to a recommendation from Health Protection Scotland and NHS National Service Scotland that the Scottish government investigate warnings labels on bags.
"We did make a recommendation to government that they should examine this," said Dr Martin Donaghy, medical director of Health Protection Scotland.
"This form of the disease is the most common form in Australia and New Zealand, and the authorities there have taken steps to make sure than warning labels about good hygiene practice are put on bags of compost."
Wood-based compost
In Australia, cases of compost-related Legionnaires' disease fell following the introduction of warning labels in 2003, although the same effect was not seen in New Zealand where cases actually rose following the introduction of warnings in 2005.
Bags of "growing media" carry prominent warnings to tell gardeners to avoid breathing in the dust, to wear gloves and wash their hands immediately after use.
In the UK, these recommendations form part of a statement regarding "safe handling and use" but are not displayed prominently.
No particular brand of compost has been identified as particularly risky, although experts speculate that the rise in cases of legionella longbeachae may be linked with manufacturers switching from peat-based mixes to wood-based compost. In Australia and New Zealand compost has always been based on pine sawdust or bark.
Another aspect of the outbreak baffling scientists is why Scotland has seen so many cases in the last five years when the rest of the UK is relatively unaffected. Over the same period only one other case has been identified, in England.
Warm weather
The Incident Management Team concluded that patients admitted to hospital with pneumonia undergo more stringent testing for Legionella in Scotland.
"Part of our investigation has involved discussions with our colleagues in England particularly about where we are employing a different testing regime in Scotland," said Dr Donaghy. "It appears that we are, but we're reviewing that situation further."
In terms of the product itself, there seems to be no particular risk factor, especially as much of the compost sold in Scotland comes from England or Northern Ireland.
Although Legionella longbeachae is probably here to stay, the risk to gardeners remains low.
The current outbreak occurred during warm weather when thousands of people were working in their gardens.
In the NHS Lothian area, two patients are continuing to be treated in intensive care after falling ill with the disease last week, while two other people have been treated and released from hospital.
The advice for anyone using compost is to always wear gloves, avoid inhaling dust from compost particularly in enclosed environments like a shed or greenhouse, and to make sure you wash your hands after handling compost and before smoking or eating.