Scottish independence: Immigration queries 'whatever referendum result'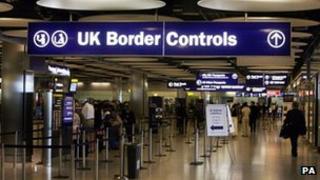 Significant questions remain to be answered about immigration to Scotland after the independence referendum, a report has said.
The analysis from Oxford University's Migration Observatory said there will be issues whatever the result.
The Bordering on Confusion report said Scotland has problems to overcome if it remains part of the UK.
But it also highlighted practical difficulties with independence, if policies were different from England.
The UK government is trying to limit numbers, while Scotland's recent population growth has come from inward migration.
"Numbers born in the UK actually declined, suggesting population growth was only achieved as a result of positive net migration," the report said.
"Scotland has a smaller, considerably less dense and slower-growing population than England.
"While some would argue that this means Scotland needs a different approach to managing immigration to densely-populated, fast-growing England, this 'need' is highly subjective and would undoubtedly be debated in an independent Scotland."
The report said that would depend on Scotland's status within the EU - if it can join - and whether it were part of the Schengen free-movement area.
But it said it was not clear whether border controls would be necessary.
"Scottish nationalists have argued that no changes are needed and that no border controls would be required between England and Scotland," the study said.
"But the UK Home Secretary, Theresa May, has called this into question, suggesting that passport checks may be necessary to prevent the rest of the UK from becoming a de-facto member of the EU's Schengen free-movement area and to prevent migrants from using Scotland to bypass UK immigration controls."
Alternative policies
Immigration policy is reserved to Westminster, although Scotland has encouraged highly-skilled workers to move there.
The Migration Observatory, which will be launching its Scotland project on 18 September, said there are alternatives to the UK's current approach.
These could allow migrants with skills needed in Scotland to work or study here, but not in "densely-populated, fast-growing England".
In Canada, regionally-specific visas can be granted to migrants to encourage population growth where it is required, while limiting movement to large urban centres.
And France and Germany have different policies for issuing work and study visas to non-EU nationals even though movement between the countries does not require a passport.
Dr Scott Blinder, acting director of the Migration Observatory, said: "There are ways to move away from a 'one-size-fits-all' immigration policy, and Canada provides one example of that.
"But these policies bring their own challenges with implementation and enforcement.
"Whether this sort of approach would be feasible in the UK, or palatable to governments on either side of the border is, as yet, impossible to say."
A spokesman for the Scottish government said an independent Scotland would have full responsibility for immigration.
He added: "This will give us the ability to take decisions that suit our own economic circumstances and ensure that we fulfil our international obligations to provide shelter for those fleeing violence and persecution.
"Full details of our plans for immigration will be set out in our comprehensive White Paper which due to be published in November."