Jackie magazine - How a 'teenage bible' defined the 1970s
Teenage magazine Jackie sold hundreds of thousands of copies each week in the 1970s but got left behind as times changed. A new musical being staged in Dundee brings Jackie back to life.
Question: Take a modern teenage girl. Take away her internet, her mobile phone, her ipad - what do you have left?
Answer: A 1970s teenage girl.
Forty years ago, Jackie magazine was the place that most young girls looked to for advice on those strange creatures, boys.
They also lapped up fashion tips, beauty secrets, photo love stories and the latest on teen pop stars such as David Cassidy and Donny Osmond.
Sales of the magazine were huge, regularly hitting 600,000 in the mid-70s and far more than that for a special 1972 edition, which coincided with Cassidy's UK tour.
Thousands of readers wrote to the magazine each week, especially to its legendary problem page, Cathy and Claire.
Readers were given an address in London's famous Fleet Street but very few knew that it was actually produced by DC Thomson, publishers of the Beano and Dandy, from their offices in Dundee.
DC Thomson was, and still is, a very traditional company which was considered straight-laced even in those days.
Despite being mainly staffed by young women it took 10 years for Nina Myskow to become its first female editor.
She has previously described the magazine as a "big sister" helping young girls during the "transitional stage" to being young women.
Maria Welch, who worked on Jackie from 1987 to 1992, says: "Jackie was the blueprint for the teenage magazines that we see today.
"When Jackie was selling millions of copies in the 1970s, I think lots of teenagers were feeling a bit disconnected.
"There was no internet, there was no social networking so it was very difficult to find out if your problems were ones you were having alone, or were other girls having them too?"
BBC Scotland TV presenter Jackie Bird was 17 when she started work at Jackie magazine in the late 1970s.
She says: "Few people today will have any idea how important it was.
"It was the bible of every teenage girl, and not only that but their brothers too, who used to sneak a look at it to get an idea how the female psyche worked."
A new stage production from Dundee's Gardyne Theatre uses this teenage bible from the decade that taste forgot as the backdrop for a musical reflecting more innocent times.
The show's writer Mike James says the musical features a woman in her 50s, called Jackie, who is "divorced and going through a bit of a mid-life crisis".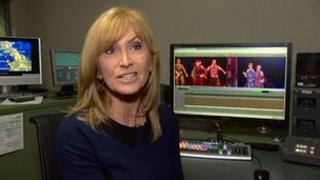 He says: "She is moving house and finds her old Jackie magazines from the 70s and is reunited with her 15-year-old self.
"Together they try to find a new boyfriend for her using the old Jackie morality - all the tips on make-up and fashion and how to find a good boyfriend."
Each week, Jackie readers got essential tips on how to kiss and features explaining how you could tell what boys were like from the way they sat or the shape of their nose.
It was not a very scientific analysis but it was all that was available at the time.
James says: "Young Jackie is amazed by the technology surrounding Jackie today. The mobile phone, texting, the internet, the love match websites - all of these things are alien and strange to the young Jackie because she just had the magazine.
"That was her only contact with her peers and her only way of finding out what was going on in the fashion world and other people's problems."
Ms Welch says that the Cathy and Claire advice page was required reading for many girls at the time.
She says: "Every Thursday you could look at the problem page and see that other girls were having exactly the same problems as you were having.
"So not only did you get some good advice you also got this feeling of being connected to a bigger teenage world which was not really apparent elsewhere."
Jackie Bird, an avid reader of the magazine, says she got quite a shock on her first day working there when she found out that Cathy and Claire did not really exist and the page was written by a team of problem solvers to whom letters were farmed out.
She was also "flabbergasted" to be told she would be writing the horoscopes.
"I would be making them up," she says. "That was my illusions shattered."
Another illusion which Jackie cultivated was that it was staffed by London trendies who knew all the latest on pop stars, fashion, beauty and boys.
"Instead it was a load of us who lived in a tenement in Dundee and went to work every day on the bus," says Ms Bird.
However, she says DC Thomson, which was a very conservative organisation, was clever to employ young girls who were in touch with what was happening in the teen world.
The first issue of Jackie was published almost 50 years ago on 11 January 1964 and sold well for 20 years before a long-term decline in sales led to its closure in 1993.
Jackie Bird says Jackie the magazine began to look a bit tame and old-fashioned.
She says: "The world started to change and Jackie and its publishers chose not to change with it, not to be risque.
"It's a memory of an age of innocence," she says.
Ms Welch says: "Jackie was absolutely right for its time but the skill of magazine publishing is not only knowing when to launch a magazine but knowing when to fold a magazine.
"So Jackie folded when it was at its most beautiful and bright. So like Marc Bolan or Kurt Cobain or Sid Vicious it can't get old. It can't get tired. No-one can ever say Jackie is not as good as it used to be.
"I think that is one of the reasons why Jackie readers, like myself, look back on it with such fondness."
Jackie the Musical is at the Gardyne Theatre in Dundee from 19 September - 5 October 2013