MSP seeks views on trafficking bill proposal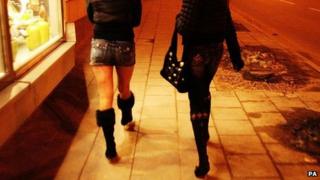 Human trafficking could be tackled in Scotland under plans for a new law, described by one expert as the most comprehensive in the world.
A consultation launched by Labour MSP Jenny Marra seeks views on a range of measures.
Her proposed Human Trafficking Bill aims to make it illegal to punish people forced to commit crime as a result of their trafficking.
It also calls for a "survivors service" for victims.
The bill would compel the Scottish government to publish an anti-trafficking strategy to be agreed by parliament every three years.
It would establish a new single criminal offence and an associated offence of aiding, abetting or attempting to commit human trafficking.
'Modern-day slavery'
"One victim of human trafficking is found in Scotland every four days, yet only five people have ever been convicted of human trafficking offences in Scotland," Ms Marra said.
"The Anti-Trafficking Monitoring Group has found evidence that victims of human trafficking, including children, are being held in Scottish jails for crimes they were forced to commit by traffickers.
"This situation is simply unacceptable and it is time for Scotland to be a leader in protecting victims of modern-day slavery."
She added: "This legislation will enable Scotland to tackle the scourge of human trafficking and I hope that it will receive the broad support, from all parties, which it deserves."
The start of the consultation was timed to coincide with a conference on the problem organised by Justice Scotland, which aims to improve access to justice, human rights and the rule of law.
EU anti-trafficking co-ordinator Myria Vassiliadou, a speaker at the conference, said: "I strongly believe that if fully and swiftly implemented, this legislation can make a real difference for victims' lives, prevent others from becoming victims and help to better address this horrible phenomenon."
She will also appear before MSPs on Holyrood's European and External Relations Committee on Wednesday to answer questions on the wider issue of human trafficking.
'Beacon to others'
Dr Anne Gallagher, described as a leading global expert on the international law on human trafficking, said: "Strong laws are an essential element of ending impunity for traffickers and securing justice for victims.
"The consultation is a critical step in developing such legislation, reflecting well on how seriously Scotland takes this issue, and I wish it the success is deserves.
"If passed, it would be the most innovative and comprehensive piece of anti-trafficking legislation in the world."
Baroness Helena Kennedy, who led the Equality and Human Right's Commission Inquiry into Human Trafficking in Scotland, said: "Human trafficking is one of the most pressing human rights violations in the contemporary world. It is a matter of crime not immigration.
"So Scotland can, starting with this consultation, now move to have exemplar modern slavery legislation that is a beacon to others."
Potential gaps
A Scottish government spokeswoman said: "Human trafficking is a heinous crime. That's why we are working with relevant agencies to make Scotland a hostile place for traffickers and to better identify and support potential victims.
"Following on from the human trafficking summit last year, we have introduced legislative proposals for a human trafficking statutory aggravation and are reviewing with other agencies current trafficking legislation to identify any potential gaps."
She added that trafficking was an international and cross-border crime and a partnership approach was the most effective way to tackle it.
"The UK government intends to bring forward a Modern Slavery Bill and we are exploring the possibility, with them, of that bill covering Scottish interests," she said.
"We meanwhile note Ms Marra's consultation on a proposal for a bill and will give careful consideration to any bill brought forward on human trafficking."