Scottish independence: Document warns about making pro-Yes concessions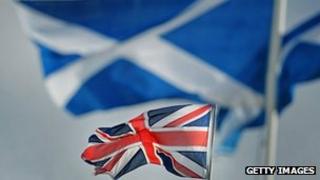 An independent Scotland could find itself tied into "crippling" constraints set by countries and organisations, it has been warned.
It added the nation would need to carefully consider what concessions it made to the rest of the UK and the EU in the event of a Yes to independence.
The claim came in a paper for nationalist group Options for Scotland and The Jimmy Reid Foundation.
But it said it was "a given" that an independent Scotland could be viable.
The paper, written by husband-and-wife economist team Jim and Margaret Cuthbert, sought to lay out a range of economy policy options for an independent Scotland.
The people of Scotland go to the polls on Thursday, 18 September, 2014, where they will vote on a Scottish independence referendum.
Voters will be asked: "Should Scotland be an independent Scotland?"
In the event of a "Yes" vote, The Scottish government said it would seek to retain the pound within a formal currency union, adding that, with full fiscal powers, an independent Scotland would have control over tax, capital borrowing, welfare and social security.
The paper concluded: "Scotland has to be very careful that, in negotiating its relations with bodies like the rest of the UK and the EU, it does not make concessions which will impose constraints which ultimately prove to be crippling.
"Any choices, for example about forming a sterling currency union with the rest of the UK would have to be viewed very carefully in this respect."
It added: "An independent Scotland is going to have the will and courage to deal with the other constraints it will face."