'Improvement' call on Scottish school toilets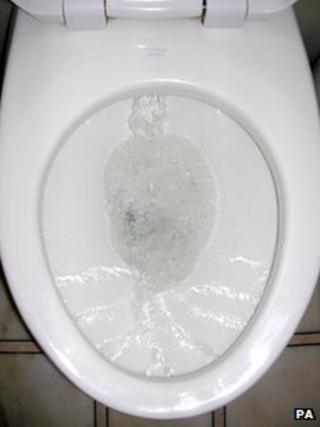 Scotland's Commissioner for Children and Young People has launched a campaign for new guidelines on school toilets.
Tam Baillie said the quality of the facilities must be monitored and guaranteed in the same way as workplaces for adults.
He argued the move was needed to ensure "dignified and safe facilities".
Local councils said improvements might entail significant extra spending of money that councils "do not have".
The Commissioner's views are set out in a report Flushed with Success: Setting the Standard for Scotland's School Toilets.
Mr Baillie said: "Providing better school toilets as standard across Scotland is a matter of respect and dignity for children and young people.
"A number of schools have great toilets for pupils and have gone above and beyond what's required in legal terms.
"However, I have come across many instances where the standard of school toilets is poor and children regularly complain about the facilities. Current legislation is nearly 50 years old and doesn't demand that inspectors look at school toilets."
He added: "This most basic of requirements needs to be urgently improved if the government's vision for 'Scotland to be the best place to grow up in' can sound anything other than hollow."
The initiative has been backed by Chief Medical Officer for Scotland Sir Harry Burns.
He said: "I would like to see the guidance for school toilets updated, to ensure that basic hygiene standards including access to hot water and soap and proper hand washing facilities, are adhered to in every single school in Scotland."
Cost
The report follows a survey of 2,000 young people carried out by Ipsos MORI.
It found that 56% reported never using school toilets, or only using them if they "really had to".
The local authority umbrella body Cosla has warned about the cost of bringing about improvements.
A spokesman said: "The Children's Commissioner is quite right to raise this and it is his job to do so. Whilst councils do their very best in this regard there is not a single council in Scotland who would disagree with his assertions nor is there a council who would not like to provide better toilet facilities across their whole school estate to the highest standard.
"That said the reality in all of this, and the one thing missing from what is being proposed, is cost and a very significant cost at that - and would take money that councils simply do not have at the moment.
"The bottom line is that demand for our services, or demands for us to make major improvements, will always outstrip our ability to pay for them. This is particularly acute in the current economic climate."
He added: "If we have Mr Baillie's comments backed up by the CMO for Scotland then can we presume that the money to address this is also forthcoming and are they really both saying that children's toilets are a top priority ahead of all other things that councils provide for children."