'No change' after talks on Faroese herring catch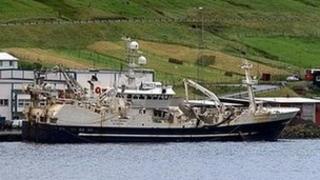 Talks over the Faroe Islands' decision to treble the amount of herring it catches have ended with no sign of the Atlantic nation changing its stance.
Last week European sanctions were imposed on Faroese herring imports.
Scottish fishermen had hoped this might prompt a U-turn.
But a two-day meeting of fishing nations in London has ended with no agreement and there are fears the Faroes may now increase its quota next year.
The Faroese government has welcomed an agreement to form a scientific working group to examine the stock.
Ian Gatt, chief executive of the Scottish Pelagic Fishermen's Association, said: "While there was an agreement of sorts to set up a scientific working group, this still has to be finalised by Iceland and Russia who need to go back to their governments to seek final approval.
"In any case, a scientific working group is hardly a significant step forward and will do nothing to resolve the issue in the short-term.
"But what was particularly astonishing was that despite the requests by the EU, Norway, Iceland and Russia for the Faroese to table an offer of a new and more realistic quota level, this was not forthcoming from the Faroese and they had absolutely nothing to offer."
He added: "Even more worrying was the fact that they gave no assurances that they would not set a high unilateral TAC (total allowable catch) next year."