Agreement close on Scottish teachers pay deal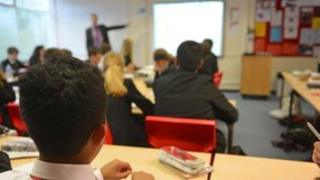 The Educational Institute of Scotland (EIS) has accepted, in principle, a two-year pay deal for its members.
It would mean a general increase of 1% for the current year, backdated to April, and a similar rise next year.
The offer has been tied to changes in teachers' terms and conditions from the McCormac report. Union members will be balloted on these plans.
EIS General Secretary Larry Flanagan said the deal "may well be all that can be achieved".
The offer was drawn up following negotiations involving unions, the Scottish government and the local government body Cosla.
It includes an improvement in pay for short-term supply teachers.
Mr Flanagan said: "The EIS entered into pay discussions with the priority of making progress on the pay and conditions of short-term supply teachers.
"After much hard negotiation, a final offer has been received that represents a significant improvement on the short-term supply issue, without impacting on the 1% pay offer to all employees that was previously announced by Cosla."
He added: "A pay offer of 1% this year and 1% for next year may well be all that can be achieved through negotiation in the current climate but the EIS is clear that this will not reverse the real-term decline in teachers' pay, and at some point action will need to be taken to ensure that teaching remains an attractive profession for young graduates to join."
Representatives of local government have said the offer is in line with pay increases for other council workers.
A Cosla spokesman said: "We have made an extended offer of a further year which is consistent across all pay bargaining groups. The ballot is part of their process and we await the outcome of that ballot."
A Scottish government spokeswoman said: "Teachers' pay is a matter for the Scottish Negotiating Committee for Teachers (SNCT).
"The Scottish government, as a member of the SNCT, helped to secure this offer which provides a one per cent pay offer, implements proposals from the McCormac Review and addresses the needs of teachers undertaking short term supply work."