New shingles vaccination planned by Scottish government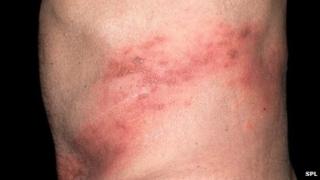 People over 70 are to be offered a single vaccination to protect against shingles, the Scottish government has announced.
There is also to be a catch-up programme for people aged 79.
Shingles is a painful condition related to chickenpox and can often flair up in older people whose immune system is weakened.
The health minister said one of the benefits would be a reduction in hospital admissions.
Most of the virus is destroyed when people recover from chickenpox but some survives and remains inactive within the nervous system.
Public Health Minister Michael Matheson said: "Shingles is a debilitating condition that is more likely to affect people, and to be more severe, as they grow older.
"For older people, shingles can be a significant cause of illness and pain, with many people developing a very painful and long lasting condition, Post Herpetic Neuralgia, which is why we are offering a new vaccination programme.
"The new vaccine could prevent many people from getting shingles and reduce the number of people that are hospitalised each year. With shingles, once you've had it, there is a chance that you could get it again, this vaccine will also reduce the risk of this happening."
The shingles vaccination programme is part of wider changes to routine immunisation in Scotland.
All two- and three-year-old children will be included in the seasonal flu programme from October.
In addition, a rotavirus immunisation will be introduced for all babies in Scotland born on or after 1 May 2013.