Edinburgh Napier University helps Police Scotland fight online crime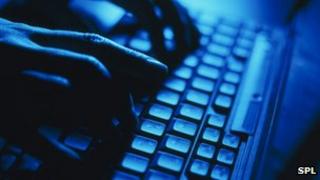 University experts are helping Scottish police officers target online fraud, hacking attacks and social media bullying.
Edinburgh Napier University has set up a one-week Digital Investigator course to assist detectives and police staff.
It will cover internet skills including tracing instant messaging and capturing and analysing web traffic.
The university's Professor Bill Buchanan said cyber crime was on the increase.
He told BBC Radio Scotland's Good Morning Scotland programme: "With many crimes these days there is a trail of evidence that we see across the internet and Police Scotland are obviously keen that their officers have the skills to corroborate and prove the credibility of this evidence."
Prof Buchanan added: "We are teaching investigators a deep understanding. We feel privileged to train these investigators, as we can learn just as much from them as they do from us."
Det Supt Steven Wilson, Police Scotland's Cybercrime lead, said: "Police Scotland's key objective is to keep communities across Scotland safe, we recognise that individuals spend a large proportion of their time in the online world and businesses increasingly are dependant on e-commerce to grow their businesses.
"Investigations in such a quickly evolving area present significant challenges to law enforcement and providing our officers with an in-depth understanding of cyber investigations is fundamental to the delivery of a quality service.
"This co-operation with Edinburgh Napier University has significant benefits for both parties and the learning from it will be equally beneficial to industry."
The course runs from the university's Cyber Security lab from Monday.