Old Scots songs get YouTube boost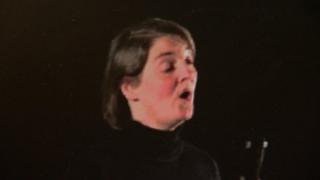 Watching singers perform and learning from them is a centuries-old tradition but it is being given a 21st Century twist by Edinburgh University.
It is reaching out to wider audience by recording traditional songs from north-east Scotland and putting them online.
The songs, performed by acclaimed modern artists, are from the Greig-Duncan folk song collection.
In all 16 artists have been filmed performing 35 songs and the videos have been published on YouTube.
Broadcaster and traditional singer Frieda Morrison, who is artist-in-residence at Edinburgh University, based in the department of Celtic and Scottish Studies, is one of the singers who have revived the songs.
She says: ''What better way really to reach the world than putting them online?
"Only this morning we heard that we have had 2,500 hits for the songs and that's incredible for songs from Aberdeenshire.
"It's important to keep it going."
Ms Morrison adds: "Hamish Henderson used to talk about the carrying stream, the carrying on of the tradition.
"This is just a different twist in the stream. This is just a different route that the stream is taking.''
The songs that have been recorded are just a small selection of the 2,000 collected in the early 20th Century by Aberdeenshire schoolmaster Gavin Greig, who was based in New Deer, and minister James Bruce Duncan from Alford.
They have been edited by Dr Emily Lyle of the school of Celtic and Scottish studies.
She says putting them on the web brings the songs "back alive again" for contemporary singers and listeners.
"It's the way it used to be when it was being sung locally in Aberdeenshire over 100 years ago.
"The singers were singing it to their community and then collectors came along and put it into writing.
"Then editors came along, like myself and got it into print. Now it's back where it belongs - out on the web, meeting people live again.''