Scotland's snow-hit farmers share £750,000 compensation fund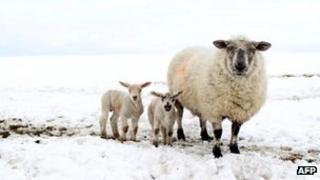 Thousands of farmers in Scotland who lost livestock during snowy weather earlier this year have been given nearly £750,000 in compensation.
The Scottish government's Rural Affairs Secretary Richard Lochhead detailed the figures during a visit to Arran.
He said 4,082 farmers across Scotland had received cash from the fund.
Farmers on Arran endured one of the worst snow storms in living memory, with drifts cutting off power to local communities in March.
In total, £6.5m was made available in aid, including the money for fallen stock, which has just under £20,000 left.
Mr Lochhead said: "This year's severe snow resulted in a significant number of livestock deaths across Scotland.
"As well as the distress of seeing so many animals dying, many farmers also faced financial losses.
"That is why the Scottish government has made a total of £6.5m compensation available and I am pleased to confirm that more than £730,000 in fallen stock payments should have now reached the bank accounts of 4,082 farmers across Scotland.
"This will go some way to helping meet the additional costs involved in disposing of carcasses."
He added that more than half of these funds have gone to farmers in south-west Scotland, which was particularly badly affected by the snow.