George Wyllie art works auctioned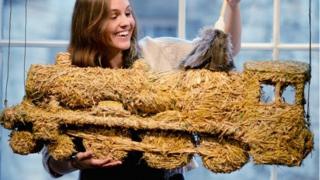 An auction of works from the studio of the late Glasgow artist George Wyllie is to be held later.
Wyllie, who died last year aged 90, was one of Scotland's most prolific artists whose work can be found in public places around the country.
He is best known for his full-size straw locomotive, which was suspended from the Finnieston Crane in 1987.
Auctioneers Lyon and Turnbull are to hold the sale in the Lighthouse in Glasgow.
Wyllie, a retired Customs and Excise officer turned full-time artist, had a knack for masterminding big events.
The works to be auctioned include a second version of the famous Straw Locomotive, which hung from the huge crane on the banks of the Clyde in 1987.
The auctioneers described the original art work as "one of the defining moments in Scottish art in the 20th Century".
The Lyon and Turnbull website said: "It secured Wyllie's reputation as an artist of international standing.
"The seeming insubstantiality of the piece was widely understood and appreciated as a commentary on the loss of the west of Scotland's traditional heavy industries.
"Wyllie's subsequent Viking funeral for the piece was typical of his bravura theatricality but did nothing to diminish the standing of a work whose public impact has never since been equalled."
Two years later, Wyllie's Paper Boat was seen by millions as it sailed around the world from Glasgow to New York and back to Scotland.
It made it on to the front page of the Wall Street Journal, when it berthed at the World Financial Center in New York in 1990.
The auction includes many works which have never been seen in public before.
Gavin Strang, director of Lyon and Turnbull, said: "We are delighted to be selling the studio contents of such a fantastic Scottish artist."