Post Office staff stage Scottish strike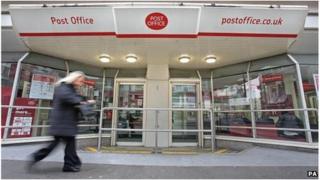 Staff at Scotland's Crown post offices are taking strike action in a dispute over branch closures, job cuts and pay.
The move comes after more than 70 Crown sites - the larger branches usually found on high streets - closed their doors across the UK on Saturday.
Monday's walkout involved members of the Communication Workers Union (CWU) in locations including Edinburgh, Aberdeen and Dunfermline.
Members in England, Wales and Northern Ireland will strike again on Tuesday.
The Post Office listed 25 Scottish branches which could be affected by the strike action.
The state-owned Post Office has been involved in a five-month dispute over plans to franchise or close more than 70 UK-wide Crown post offices.
They are the biggest branches in larger towns and cities, which make up 3% of the entire Post Office network and handle about a fifth of its customers.
Industrial action
The Crown post offices currently make a loss of £37m a year across the UK.
It is a separate company to the Royal Mail, which is due to be privatised before the end of the year.
The CWU said plans to franchise or close dozens of Crown offices would result in the loss of up to 1,500 jobs, and claimed staff were being forced to accept a three-year pay freeze.
Deputy general secretary Dave Ward said staff did not agree with the "slash-and-burn" approach and were prepared to take prolonged industrial action.
Kevin Gilliland, network and sales director at the Post Office, voiced disappointment at the strike.
"We must continue with our plans to turn around the Crown network to ensure we keep these branches on high streets and in city centres across the UK," he said.
"We remain open to discussions with the CWU on pay options which do not add to the current loss of public money."