Alan Warner and Tanya Harrod win James Tait Black Prizes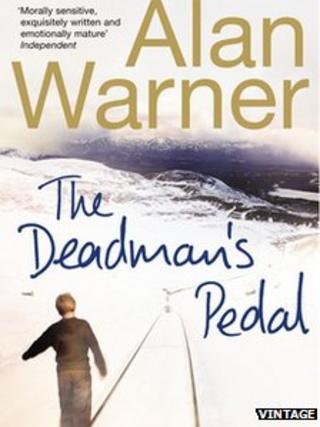 A novel inspired by a seaport in the Scottish Highlands and a biography of a renowned potter have scooped the UK's oldest literary awards.
Novelist Alan Warner and art historian Tanya Harrod beat off strong competition to win the James Tait Black Prizes.
The winners were announced by broadcaster Sally Magnusson at the Edinburgh International Book Festival.
The prizes are awarded annually by the University of Edinburgh.
One is for the best work of fiction and the other for the best biography.
The winners each receive £10,000 in prize money.
Oban-born author Alan Warner was the winner of the fiction prize for his book The Deadman's Pedal.
The writer-in-residence at the University of Edinburgh is best known for his 1995 work Morvern Callar, which was adapted for a film starring Samantha Morton.
The Deadman's Pedal sees a teenage boy leave school to work as a driver on the trains and become immersed in a new world with difficulties he must navigate.
'Poetic vision'
Fiction judge Lee Spinks said: "Alan Warner's The Deadman's Pedal is an exceptionally fine novel, richly evocative in detail, beautifully poised in execution, which in the story of one young man's journey to adulthood through the mysteries of childhood, sexuality, work, the realities of class society and the experience of divided family loyalties, offers a compelling poetic vision of a changing Scotland."
Tanya Harrod took the biography prize for her book The Last Sane Man: Michael Cardew, Modern Pots, Colonialism and the Counterculture.
She is co-editor of the Journal of Modern Craft.
Biography judge Professor Jonathan Wild said: "Tanya Harrod's The Last Sane Man offers an exceptional portrait of a remarkable craftsman and his world.
"Harrod constructs this biography with the same eye for form and purpose that marked the work of her subject."
The inaugural James Tait Black Prize for Drama was awarded recently to a play by Tim Price about Bradley Manning - the US soldier convicted of espionage for leaking secrets.
The James Tait Black Memorial Prizes have been awarded by the University of Edinburgh since 1919 and are the only major British literary awards judged by scholars and students.
The awards, organised by University of Edinburgh's literatures, languages and cultures department, were founded by Janet Coats, the widow of publisher James Black.