Lord Carlile calls for Fort Augustus abuse inquiry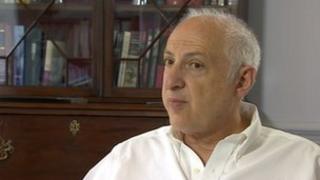 An independent inquiry into allegations of abuse at Fort Augustus Abbey School should be held, a senior Liberal Democrat peer has said.
A BBC programme uncovered evidence of decades of physical and sexual abuse by some monks at the school.
Earlier this week police said there were more than 20 possible victims.
Lord Carlile also called for prosecutions to be considered and said those who were abused should get compensation from the church.
The peer carried out a review into similar abuse at a Catholic school in London.
His comments, made in a interview with BBC Scotland, came after it was revealed that Cardinal Keith O'Brien blocked an investigation into sex abuse throughout the church in Scotland.
The BBC programme, Sins of Our Fathers, looked at claims of abuse at Fort Augustus Abbey School in the Highlands and its preparatory school Carlekemp in East Lothian.
'Known abusers'
Since the programme was broadcast more people have come forward alleging abuse.
The BBC has now spoken to about 50 alleged victims of physical and sexual abuse at the two schools, which are now closed.
Ten monks are accused of physical abuse, four monks and a lay teacher of sexual abuse, including rape, and three headmasters of cover up.
Lord Carlile said: "It seems to me that there needs to be an independent inquiry - a review - that looks at the history of abuse at Fort Augustus and in particular at the way in which the Catholic Church has dealt with those who are known to be abusers - a subject which doesn't have a distinguished history in Scotland in recent times.
"An inquiry should also ensure those who were abused are able to recover compensation from the Church and from the order."
The Lib Dem peer said he wanted to see a commission set up which would make a "call for evidence" and also be given "access to all documentary records" held by the Benedictine order who ran the Fort Augustus school.
He added: "I think the brief for the commission would also include looking into areas which perhaps the police don't have the resources to look into.
"Having said that, I also think it's important that the police should carry out a rigorous and diligent inquiry and that the possibility of prosecution should be considered, even against those on the other side of the world.
"The evidence is that there are abusers in Australia. There would be no particular difficulty in extraditing those people for trial in Scotland."
The Scottish government said a investigation by specialist officers from Police Scotland was looking into the allegations.
A spokesperson said: "That must take priority and the Scottish government would be letting down the victims if it did anything that might be seen to prejudice or jeopardise this investigation or any criminal court actions which may follow including any possible extradition proceedings.
"We will of course consider what further steps might be appropriate once the police investigation and any subsequent trial procedures are complete."
Full redress
The Bishop of Aberdeen, Hugh Gilbert, has apologised on behalf of the Catholic church in Scotland, calling the abuse revelations "bitter, shaming and distressing".
The Church has also said it will publish details of its annual audits, which deal with abuse allegations, dating back to 2006.
But Lord Carlile said "much more than apology" was needed.
"We need to have an inquiry, we need to have prosecutions if at all possible, and we need to have redress," he said.
"We need to ensure that those who were badly harmed by outrageous experiences committed against them as vulnerable young boys when at the schools concerned, feel that they have had full redress.
"This is very, very important for them, and they are far, far more important than any order of monks, they are far more important than any priests or teachers, and they are entitled to the rule of law operating in their favour and in their interests."