SQA figures reveal exams cancelled over mobile phones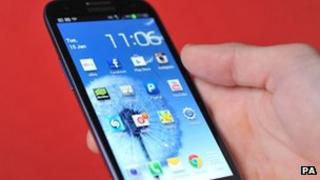 More than 100 pupils, over the past three years, have been given no marks in an exam after being caught with a mobile phone, figures have revealed.
The Scottish Conservatives submitted a Freedom of Information (request on the issue to the Scottish Qualifications Authority (SQA).
It said a total of 118 exam entries were cancelled between 2010 to 2012.
The SQA said a "tiny minority" of pupils had engaged in malpractice which was "totally unacceptable".
The FoI also revealed that a further 88 warnings were given to pupils who took mobiles into the exam room but did not have them in reach.
Conservative education spokeswoman Liz Smith said the figures raised concerns.
"These figures show that there is still a problem with the fraudulent use of mobile phones during exams and that more work has to be done to tackle the problem," she said.
A booklet produced by the SQA lists a number of items students are not permitted to take into the exam room with them, including mobile phones.
Phones confiscated
Candidates are warned that "improper conduct" during an exam will be "reported to SQA and investigated".
The booklet explains this could result in students being issued with a warning, losing their right to an appeal, losing marks, having their exam entry in the subject concerned cancelled or, in extreme circumstances, having all their exam entries cancelled.
In its response to the FoI request from the Tories, the SQA stated: "All mobile phones found in an examination room are confiscated for the duration of the examination and later returned to the candidate.
"If a candidate is found to have a mobile phone on their person, the standard penalty applied is cancellation.
"If a candidate brings a mobile phone into the examination room and the mobile phone is not within his/her reach, the penalty applied is a warning."
The exams body said that in 2012 there were 73 penalties applied after students took mobile phones into the exam room in 2012, including 44 cancellations and 29 cases where pupils were given warnings.
That was higher than 2011 when 64 penalties - 34 cancellations and 30 warnings - were applied.
Zero tolerance
In 2010 there were 69 cases where penalties were given to students caught with mobile phones, with 40 cancellations and 29 warnings.
Over the period 2010 to 2012, the total number of people sitting exams was 479,397, with 206 penalties for mobile phones being brought into the room - which amounts to just 0.04% of the total number of candidates.
Ms Smith added: "It must be drilled into pupils that cheating of any sort is completely unacceptable.
"Trying to use a mobile phone or any other means to gain unfair advantage is a blatant act of dishonesty and the penalties must fully reflect that."
SQA director of operations Eric Martinez said: "It is totally unacceptable and the SQA continues to work with schools and colleges to ensure that the zero-tolerance approach to malpractice is applied everywhere and every time."
A Scottish Government spokeswoman said: "This year Scottish pupils have achieved record high exam results and these figures show that incidence of cheating remains incredibly rare, with rigorous measures in place to deal with those attempting to break the rules."