Bridget Christie wins Foster's Edinburgh comedy award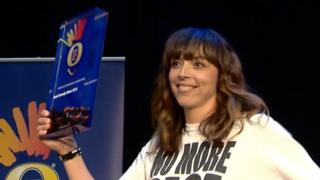 Bridget Christie has fought off six other shortlisted comedians to win the 2013 Foster's Edinburgh Comedy Awards.
The feminist comedian is the first woman to win the £10,000 prize, since Laura Solon in 2005.
Her show 'A Bic for Her' has been described as an hour of feminist comedy which is "as full of imaginative jokes as it is of righteous anger".
John Kearns won best newcomer and Adrienne Truscott won the panel prize at the ceremony hosted by Steve Coogan.
Coogan, currently starring in the movie Alan Partridge: Alpha Papa, won the comedy prize in 1992, when it was called the Perrier award.
The six other comedians, performing at this year's Edinburgh Fringe, who were shortlisted were: Carl Donnelly, James Acaster, Max and Ivan, Mike Wozniak, Nick Helm and Seann Walsh.
In her winner's speech, Christie said she was accepting the award on "behalf of all female comics".
In reference to fellow female comedian Josie Long, who has been nominated three times without winning, Christie said: "Thanks to Josie for not coming this year. We all know I'm only here because she's not here this year."
Christie told BBC Scotland she had been coming to the Fringe for 10 years and "nobody had really come" to her shows.
"It might mean people will come next year, so it's good that people will know who you are," she said.
Christie said there were some amazing women performing in Edinburgh this year and she was shocked there were not more on the awards shortlist.
There have only been two previous solo women who have won the prize in its 33-year history - Jenny Eclair in 1995 and Laura Solon in 2005.
"I'm in good company," said Christie.
"But hopefully that might change as well. I don't really feel it's about me, it's about women.
"It's changing. You had better watch out, we are taking over."
Truscott won the panel prize for another show which was tilting at the "boy's club" of comedy.
In her show Asking for it at Heroes @ Bob's Bookshop she takes on the culture of the rape joke.
Awards organiser Nica Burns said it was "an extraordinary show combining stand-up and performing art".
Truscott, one half of New York cabaret act the Wau Wau Sisters, performed the show naked from the waist down, using video installations to project on to her naked lower body.
While Truscott's show was part of the new pay-what-you-want strand of Fringe shows, best newcomer John Kearns was appearing as part of Peter Buckley Hill's Free Fringe.
He said he hoped people performing on the Free Fringe, where audiences are asked to contribute after the show, can take inspiration from his win.
Kearns told BBC Scotland he had no agent but he added: "Anyone can come here with a show and do well and that's what Edinburgh is all about."
The comedian, who has taken leave from his day job as a tour guide at the Houses of Parliament, said: "I wanted to leave here and feel I could do this for a living and maybe this will be a moment where I can do that."
The other nominees for the £5,000 best newcomer prize were Aisling Bea, Liam Williams, Matt Okine and Romesh Ranganathan.
Previous winners of the comedy awards, which have been running since 1981, include Russell Kane, Tim Key, Al Murray, the League of Gentlemen, Jenny Eclair, Lee Evans and Frank Skinner.
Coogan, who won the award 21 years ago, told BBC Scotland: "My memory of it is that it is one of the most exciting things that happens to you.
"When you have won a few awards like I have, they all pale into insignificance when compared to the Fringe award in Edinburgh because it is such an exciting cauldron of talent.
"You can really go from zero to hero in four weeks and it is great peg-up for new talent."
Coogan said that he was known as the "funny voice man" before he won, because he had been the actor behind many Spitting Image puppets.
"I wanted to do character comedy so I came to Edinburgh to show I could do something different and it worked. It can have that impact here."
Coogan said he had seen John Kearns' show and thought it was "new and authentic".
"I get excited when I see comedians doing something new rather than something polished," he said.
"Star" names, who have already had a TV series or can perform in a 500-seat venue under their own name, are not eligible for the best comedy show award.
However, the judging panel did see 578 different shows over the three weeks of the Fringe.