Edinburgh comedy awards - what the reviewers said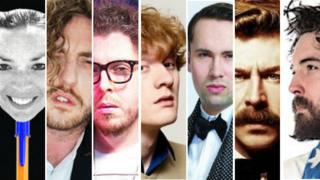 After the longest debate in the 33-year history of the Edinburgh Comedy Awards, the shortlist has been announced. For the first time since Lee Evans won in 1993, there are seven names on the list. But who are they and what have the critics been saying about them?
Bridget Christie - A Bic for Her
A Bic for Her is an hour of comedy about feminism, according to the Daily Telegraph. The paper's Mark Monahan says: "This might well set 'earnest' alarm bells ringing, and Christie certainly makes no apologies for the fact that she is as cross as hell and not afraid to show it". He says it is "in many ways a craftsmanlike hour of comedy, as full of imaginative jokes as it is of righteous anger, yet you may emerge from it feeling lectured and hectored".
The List magazine agrees that Christie delivers "beautifully crafted" and hilarious stand-up but says that while she veers towards the polemical "a joke will always be rustled up from the darkest recesses".
Carl Donnelly: Now That's What I Carl Donnelly! Volume V
Carl Donnelly is pretty unrecognisable, says The Skinny. It says he has Gok Wan'd his image and amassed "a bunch of hippyish views and pastimes". However, it says "he's done what few converts to the green side manage, and kept his sense of humour intact". It calls his comedy "effortless and utterly captivating".
Festmag says Donnelly is clearly capable and comfortable performer but complains that it is all "a bit too hotchpotch". It says that while Donnelly is "harmless and likeable, he rarely ends up fulfilling his promise of something more deep and honest".
James Acaster -Lawnmower
The Independent says that last year James Acaster beguiled his way on to the Foster's Edinburgh Comedy Awards shortlist with an artfully crafted study in mild lunacy. It says this year he offers something similar but worries that it sails close to "the wind of being inconsequential". The 28-year-old, from Kettering, has a comedy mission to clear Yoko Ono's name, as she still carries the blame of being the woman who broke up the Beatles.
The Independent says the comedy has "poetical passages and an artisan's eye for structure" but the faces of the audience show "concern at being mesmerised by a jester that they don't entirely trust". The Guardian, meanwhile, says Acaster compensates for meaningless material with "fine joke-writing and intricate construction". Brian Logan says there are "delightful sequences" but his set "felt too much like a technical exercise in dottiness".
Max and Ivan: The Reunion
"Some acts sneak up on the final week of the Fringe and deliver just the boot up the backside it requires. Suddenly, a lot of people are saying that Max Olesker and Ivan Gonzalez are 'contenders'," according to a prescient review in the Daily Telegraph. It says the duo's "robustly entertaining" hour makes up for "the unremarkable nature of its conceit - a clutch of characters convening for a school reunion - with a wonderfully taut script, a snappy attention to pace and a winning degree of versatility".
The Independent calls it a "joyous hour". It says Max and Ivan have hit upon the "perfect vehicle" for their sketch story this year. "Their school reunion rom-com has plot and heart enough to stand alone but leaves space for plenty of playful messing around, too." The Guardian agrees that this year's show has "more heart, and allows space for Olesker, Gonzalez and their audience to breathe". It concludes by calling them the "real deal".
Mike Wozniak -Take The Hit
Chortle says Mile Wozniak is a man in a "velvet bow-tie and frilly dress shirt spending an hour telling us jokes about his mother-in-law". But it says that Wozniak "quietly subverts the dated genre". The Skinny agrees that he appears to be "a showbiz throwback" but it says his "natural charm" and material that is beautifully constructed and delivered mean he is not. However, it does says that his observations on his mother-in-law living with him in his Exeter home become a little "baggy" by the end of an hour. Festmag says "his observational stuff rings true but always with brilliantly skewed perspective".
Nick Helm - One Man Mega Myth
"You can shuffle on stage to a smattering of applause. Or you can dress as Evel Knievel, crank up the heavy metal, jump on a trampoline, and demand your crowd sing "Nick Helm is amazing," writes Brian Logan in The Guardian. Of course, Helm takes the latter option. Logan describes him as a "psychotic rock-comic". While Helm's commitment is unquestionable Logan says that "ferocity alone can't distinguish several routines that consist mainly of Helm shouting abuse".
In the Daily Telegraph, Mark Monahan says "it's hard not to pity Nick Helm's larynx". He says Helm "foul-mouthed, hard-rock bombast" is "masking an ego as frail as spun sugar". The show veers from downright hilarious, to mildly chucklesome, to slightly odd, Monahan says.
Seann Walsh: The Lie-in King
The Independent compares Walsh to a "slacker" version of Michael McIntyre. It says the 26-year-old "bounces through this 'slackerscape' in a way that is accessible to the various generations in his audience". The List says Walsh is "talented enough that the show flies by, with a handful of truly inspired moments, but the rest is very much by the numbers". It talks of "fluid, energetic but ultimately dispiriting routines about the iPhone's battery life, being drunk on Facebook and the awfulness of hangovers".