Foster's Edinburgh comedy awards shortlist announced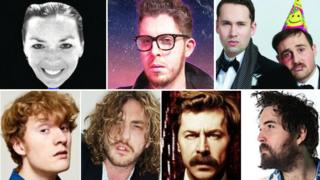 The nominees for this year's Foster's Edinburgh Comedy Awards have been unveiled.
The shortlisted acts include Bridget Christie, Carl Donnelly and James Acaster, who missed out on the prize last year.
Max and Ivan, Mike Wozniak, Nick Helm and Seann Walsh are also nominated for the award, now in its 33rd year.
The winner will be announced on Saturday. Last year's winner was Doctor Brown.
There is also a best newcomer prize, for which the nominees are: Aisling Bea, John Kearns, Liam Williams, Matt Okine and Romesh Ranganathan.
The awards, which have been running since 1981, were formerly known as the Perriers and the If.Comeddies.
Previous winners include Russell Kane, Tim Key, Al Murray, the League of Gentlemen, Jenny Eclair, Steve Coogan, Lee Evans and Frank Skinner.
"Star" names, who have already had a TV series or can perform in a 500-seat venue under their own name, are not eligible for the award.
However, the judging panel did see 578 different shows over the three weeks of the Fringe.
The Best Comedy Show prize is £10,000 and the best newcomer wins £5,000.
There is also a panel prize awarded to an act which deserves special recognition.
The full nominations for Best Comedy Show are:
Bridget Christie - A Bic for Her
Carl Donnelly - Now That's What I Carl Donnelly! Volume V
James Acaster - Lawnmower
Max and Ivan - The Reunion
Mike Wozniak - Take The Hit
Nick Helm - One Man Mega Myth
Seann Walsh - The Lie-in King
The nominations for Best Newcomer are:
Aisling Bea - C'est La Bea
John Kearns - Sight Gags for Perverts
Liam Williams
Matt Okine - Being Black & Chicken & S#%t
Romesh Ranganathan - Rom Com
Nica Burns, the producer of the awards, said: "After the longest Best Comedy show shortlist debate in the history of the awards, going to an unprecedented second vote, the list is, for the first time since Lee Evans won in 1993, seven strong.
"In complete contrast to last year, 2013 will be remembered as the year of the stand-up with an exceptional laugh count."