Stop and search targets 'not set' for police officers in Scotland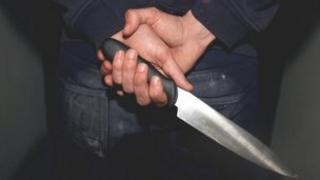 A police chief has insisted that officers in Scotland have not been set stop and search targets.
Deputy Chief Constable Rose Fitzpatrick made the pledge during a meeting of the Scottish Police Authority (SPA).
During the first three months of the new Police Scotland service, 186,463 stop and searches were carried out.
The police believe stopping and searching people for weapons, drugs, unlawful alcohol or stolen goods has led to a fall in violent crime.
Ms Fitzpatrick said: "We are taking knives and weapons and drugs and alcohol in the possession of children off the streets.
"It's not a set of officers who jump out of a van and do stop and searches and then go away again.
"It is local officers, talking to people, being present in their communities on their streets, observing behaviour, being aware of the intelligence and engaging people in interactions which lead to searches."
A paper presented to SPA members meeting in Ayr said the policy, used for six years in the former Strathclyde force, had now been rolled out across the country.
It said the creation of a single police service had allowed a standardisation of practice throughout the country.
Out of the 612,110 stop and searches by Strathclyde last year, 84,081 (13.7%) revealed something suspicious.
National trend
By comparison, figures for England and Wales showed 9% of searches on the street revealed a suspicious item.
Research carried out by Lesley Bain of Police Scotland said that stop and searches carried out in the old Strathclyde Police area and the new Police Scotland Edinburgh division had demonstrated reductions in violence.
Strathclyde Police recorded a 49.2% fall in serious violent crimes between 2007/08 and 2012/13, which was against the national trend at that time.
Of the 612,110 stop and searches by officers in the Strathclyde area in 2012/13, 55.2% were carried out on the 16 to 29 age group; 83.8% were male and 97.1% white. Overall 12.6% were carried out on youths aged 15 and under. The black and minority ethic population of the Strathclyde Police area in the 2011 census was recorded at 2.45% of the total population.
Of the 8,261 stop and searches conducted in Edinburgh City between 1 April and 30 June 2013, 20.9% or 1,727 of these were positive, leading to the confiscation of unlawful items.