Church of Scotland to modernise Sunday school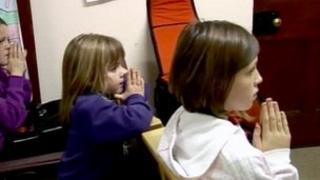 The moderator of the Church of Scotland has announced plans to modernise its Sunday schools.
With ageing congregations, the Kirk wants to do more to stop children drifting away from church life.
The Right Reverend Lorna Hood said she wanted to see "the right people and the right resources" put in place.
Only 13% of parish ministers are under the age of 45, and anecdotal evidence has suggested classes sometimes offer little more than colouring in.
Mrs Hood said that the Kirk had "taken its eye off the ball" with regard to nursery-age and primary school-age children.
"We've been concentrating perhaps on our teenagers, but we're losing them at the other end," she said.
"We're not getting our 3, 4, 5-year-olds and up into junior life."
Modern technology
Speaking ahead of the Kirk's Youth Assembly in Dundee, she said young people could perhaps help find solutions to the issue.
"They're part of this, They tweet, they Facebook, they do all social media things, and perhaps they can help us with looking into our younger ones," she added.
She said Sunday Schools needed to catch up with modern technology, and the Church of Scotland needed to develop a national programme for classes.
"A parishioner said to me recently that her grandchildren were not going back to their Sunday school as they were fed up colouring in," she said.
She added: "We need to make sure we have the right people and the right resources in the right places in our churches to encourage young people and their spiritual development.
"We need to ensure our worship resources are constantly updated and relevant in today's fast changing world."
She also urged more young people to recognise their calling to the ministry, adding: "By virtue of their baptism they are part of the church and called to be disciples like everybody else.
"Maybe we in the church have been unwilling to recognise this, but likewise too few young Christians have themselves recognised that calling and its consequences."
The Kirk still has 65,000 under-17s actively involved in youth activities.