Fort Augustus school abuse: Children 1st launch former pupil helpline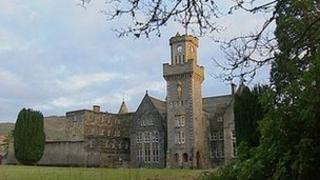 A helpline for those who may have suffered abuse at two Catholic boarding schools in Scotland has been launched by a children's charity.
A BBC Scotland programme uncovered evidence of abuse by monks at the Fort Augustus Abbey school in the Highlands and Carlekemp in East Lothian.
Police are investigating the allegations and there have been calls for a public inquiry.
Children 1st has set up a dedicated support line for anyone affected.
The organisation traditionally helps children, young people and families recover from abuse, neglect and violence and campaigns for children's rights.
Police investigation
The helpline number will be passed to victims who are interviewed by police as part of the ongoing investigation.
The BBC has spoken to about 50 alleged victims of physical and sexual abuse at the two schools, which are now closed.
Ten monks are accused of physical abuse, four monks and a lay teacher of sexual abuse, including rape, and three headmasters of cover up.
On Wednesday, former head teacher of St Augustus, Fr Francis Davidson, resigned from his post at a Benedictine college of Oxford University over allegations he failed to properly report abuse at the school in the 1970s.
Chief executive of Children 1st Anne Houston said: "By providing confidential space, our abuse support line offers help to anyone who believes they were abused during their time at Fort Augustus or Carlekemp schools.
"We know that the police are investigating allegations brought to their attention, taking the time to listen sensitively to what is told to them.
"Our abuse support line aims to assist those investigations, providing a resource which police can pass on to victims who come forward. It can also be contacted directly by anyone affected by this situation."
The support line number is 0800 345 7457 and is open Monday to Friday from 09:00 until 22:00 and weekends from 12:00 until 20:00. Calls from landlines and most mobiles are free.
Two weeks ago the Bishop of Aberdeen, Hugh Gilbert, apologised on behalf of the Catholic church in Scotland, calling the abuse revelations "bitter, shaming and distressing".