Fort Augustus school abuse claims: Commissioner calls for inquiry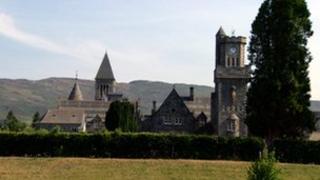 Scotland's Children's Commissioner has called for an independent inquiry into allegations of abuse at Fort Augustus Abbey Catholic boarding school.
A third Australian monk has now been implicated in a suspected paedophile ring, revealed by a BBC investigation.
The Scottish government said the allegations were matters for the Catholic Church in Scotland, and were for Police Scotland to investigate.
But Children's Commissioner Tam Baillie said an inquiry was needed.
Speaking on BBC Radio Scotland he said: "I am actually appointed by parliament, not by the Scottish government, and the government has to listen to the lobby, if you like, the views, the judgement, and in my judgement this requires an independent inquiry.
"There are echoes here of what is happening down south with regard to Savile and the number of inquiries that has spawned, and there are even more distance echoes of what happened in Ireland in the 1980s and 1990s."
The children's commissioner's call comes after similar demands from leading children's charities.
Both Children 1st and the NSPCC have said a full independent review of what went on at the schools must now be carried out.
Scottish Labour and the Scottish Liberal Democrats have also called for an inquiry.
'Cover up'
In a BBC programme, Sins of Our Fathers, Australian monks Fr Aidan Duggan and Fr Chrysostom Alexander were exposed as paedophiles, who inflicted physical and sexual abuse against pupils at Fort Augustus Abbey School in the Highlands and feeder school Carlekemp in East Lothian.
A third monk, Fr Fabian Duggan, Fr Aidan's brother, has also now been accused of sex abuse.
On Wednesday, former head teacher of St Augustus, Fr Francis Davidson, resigned from his post at Oxford University over allegations he covered up abuse at the school in the 1970s.
The BBC has spoken to about 50 alleged victims of physical and sexual abuse at the two schools, which are now closed.
Ten monks are now accused of physical abuse, four monks and a lay teacher of sexual abuse, including rape, and three headmasters of cover up.
Graeme Pearson, Scottish Labour's justice spokesman said: "These are grave allegations which merit a full public inquiry."
Scottish Liberal Democrat Leader Willie Rennie MSP told BBC Scotland: "Many of the potential suspects here have passed away so we might not be able to get an appropriate prosecution from the police. We need an independent inquiry.
"I would hope that the Scottish government or the local authority could trigger that process but it needs to be external from the Catholic Church."
A spokesman for the Scottish government said: "Allegations of abuse by monks at the now closed Fort Augustus Abbey School in the Highlands and Carlekemp Preparatory School in East Lothian are matters for the Catholic Church in Scotland, and are for Police Scotland to investigate.
"Clearly these allegations are very serious and we fully support the difficult work of the police and prosecutors in bringing to justice those who sexually abuse children."