Glasgow 2014: Commonwealth Games Queen's Baton design to be unveiled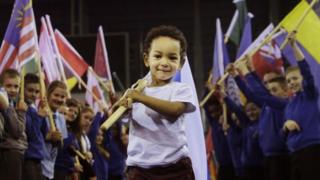 The baton which will visit all 71 competing nations and territories ahead of the Commonwealth Games in Glasgow next year is set to be unveiled.
Glasgow-based firm 4c Design won the tender to create the Queen's Baton, which is similar to the Olympic torch.
However, only one baton is made, containing the Queen's hand-written message to the Commonwealth.
The 288-day relay, covering 118,000 miles, gets under way on 9 October at Buckingham Palace.
The Queen will place her message inside the baton, which makes its first international port-of-call in India on 11 October.
It will then make its journey from Delhi - which was the host of the 2010 Games - through all the nations and territories which are sending teams to the games.
This will include the big Commonwealth countries such as Pakistan, Bangladesh, Nigeria, South Africa, Malaysia, Australia, Kenya, Ghana, Jamaica and Canada.
Some of the smaller destinations include Vanuatu, the Solomon Islands, St Kitts and Nevis and the Falklands Islands.
The baton will also travel to Tuvalu and Nauru, which both struggle to have populations of 10,000 people.
The relay arrives back in the UK in May next year, visiting Jersey, Guernsey, Isle of Man, Northern Ireland, Wales and England before a 40-day tour of Scotland in the run-up to the start of the games on 23 July 2014.
The final relay runner hands the baton, which contains the sealed, hand-written scroll, back to the Queen at the opening ceremony.
The Queen then reads aloud the hidden message and officially declares the Games open.
The design of the baton will be unveiled in Glasgow on Friday evening.