Tartan Army reaches Trafalgar Square ahead of match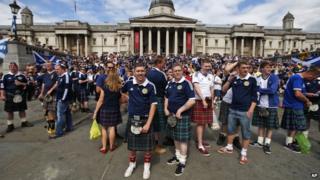 Scotland football fans have gathered in London's Trafalgar Square ahead of the international friendly against England.
Scottish Saltire flags were draped on walls and the fans spoke of their intention to enjoy the occasion, win or lose.
The fixture was arranged as part of the celebrations for the Football Association's 150th anniversary.
The Scotland team are currently in 50th place in Fifa's official rankings. The England team is 14th.
Michael Connell, 48, arrived in London with a group from Armadale Sons of Wallace club in West Lothian.
He said: "If we win, there will be a party. If we lose there will be an even bigger party but it will have been after 90 minutes of inconvenience.
"It would be sweet if we could get something, a win, over England. It would be the best feeling in the world.
"We are passionate and we like to party."
Tennis factor
Retired engineer Roscoe Hendrie, 67, was wearing a national team shirt with kilt.
He was carrying a flag with the image of Wimbledon tennis champion Andy Murray.
"It will take the lads working together and doing as they did against Croatia to win," he warned. "We are behind them all the way."
In June, Scotland claimed their first win of the 2014 World Cup qualifying campaign when they beat the group's top seeds Croatia 1-0 in Zagreb.
Mr Hendrie believes that the Scots could be inspired by Scottish success in tennis.
He added: "He has certainly given us a huge spur. Hopefully we have got the spirit of Andy Murray and that lad will encourage everyone to do their best in tennis and everything else."
'Going to win'
It has been estimated that 25,000 Scots fans are in London for the game. About a tenth of that number are in Trafalgar Square.
Nicola McLaughlin, a 29-year-old from Aberdeen said: "This is going to be my first Scotland-England game. It is going to be great and I could not miss it.
"Wayne Rooney (of England) is only half-fit, so we don't do Wayne Rooney and anyway Scotland are going to win."
Graham Johnston from Aberdeenshire insisted he was unconcerned about Scotland being the underdogs.
"We have heart and that is what gets us through - right from the team, the players and the supporters," he said. "We are a small country with passion."
One of his friends shouted: "We are rubbish at football but so are the English - they just think they are better."