ScotRail peak time fares to rise by 3.1% in January 2014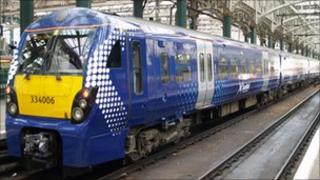 Fares for peak time rail travellers in Scotland will rise by 3.1% in January, it has been announced.
The decision means that about 60% of train journeys will increase in price in the new year.
The news follows publication of the July Retail Price Index (RPI), the inflation figure that determines the average change in regulated train fares.
The RPI fell from 3.3% to 3.1% in July, according to official statistics.
While peak time fares will rise, ScotRail said all other prices would remain the same.
A ScotRail spokeswoman said: "We are pleased to have frozen fares for 40% of journeys, and limited others to an inflation-only increase.
"This means we continue to provide better value for money for customers in Scotland, especially when fuel and energy costs continue to rise steeply."
'Attractive alternative'
She added: "We will also continue to invest. We are committed to making rail journeys more pleasant as well as delivering high levels of punctuality."
ScotRail said nine out of 10 passengers were satisfied with their rail journeys.
Deputy First Minister Nicola Sturgeon said Scotland's railways were currently enjoying a renaissance with a level of popularity not seen for nearly 100 years, with 83 million passengers using the train in the past year.
She said every effort was being made to "slash the cost of fares and make the train an even more attractive alternative to the car".
"The Scottish government already pays 75p in the £1 for every train ticket used on ScotRail services, but we want to do more," she added.
"Our objective is to enable passengers to find the cheapest fares possible and have earmarked a £5bn package of investment in better trains, better stations and better services."
Fares frozen
Rail north of the border is a devolved power of the Scottish government.
Under the franchise agreement, ScotRail is able to increase regulated fares by the RPI.
The Scottish government confirmed in December 2012 that off peak fares would be frozen after 2013.
Provided that RPI remains below 3.5% per annum, it said this freeze would continue until the end of the current ScotRail franchise in 2015.
The government also said that any increase in peak fares in January 2014 and 2015 would be capped at RPI.
In England and Wales, a rise of RPI plus 1% will apply to all regulated fares set by the UK government.